A Conversation with Fani-Gonzalez: New Member of the Montgomery County Planning Board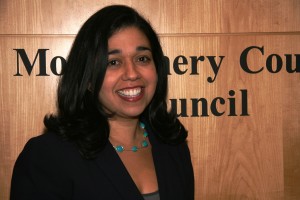 Natali Fani-Gonzalez is a mother, business owner, wife, advocate and now newest member of the Montgomery County Planning Board. I had the chance to interview Fani-Gonzalez where she shared what is like to move to a new country at 16, her plans to work with Montgomery County families, and the moment she realized the U.S. was home.
First things first, how are you feeling? First Latina and youngest member to serve the Montgomery County Planning Board.
"I feel proud of our County Council for validating the realities of my generation – the largest and most diverse generation in the history of the United States.  I'm honored for the appointment and eager to start sharing my perspective to make our County more livable and attractive for all our residents."
You came to the U.S. at age 16. What was the reason to move from Venezuela to the U.S.? Have you always lived in Montgomery County? How did you adapt to the culture and place?
"I came to the United States with my mother seeking economic opportunities and a safer environment to live. The first years were difficult. I did not speak English, we were barely making ends meet at home, and the fact that I was not an American citizen made the situation more challenging. However, seeing my mother work 15 hours a day motivated me to study and work hard to thrive in life. I first lived in Langley Park, approximately 5 blocks from the Montgomery County border. Then, after graduating from Northwestern High School in 1999, my mother and I immediately moved to Aspen Hill, calling Montgomery County our home. I also lived in Alexandria, VA for 2 years, but decided to move back to Montgomery. Nowadays I'm married and live with my husband and our two children in Kensington."
As an immigrant, when did you finally realize the U.S. was home?
"After experiencing a safe bus ride from Westfield Wheaton mall to my home in Aspen Hill. It was then when I realized that I wanted to stay in the United States. Having a sense of community and feeling safe directly impacted my life."
You are a mother, wife, and business owner, how do you do it? How do you manage it all?
"My husband is my biggest cheerleader; I am able to balance everything thanks to his encouragement and support."
You have two children. Do you think it is important to teach the culture you were raised to your children? 
"Tessa is 3 and Lucca is 18 months old.  They are my inspiration.  It is extremely important for my husband and I to raise them in a multi-cultural and multi-lingual environment.  I am Latina as I was born and raised in South America, yet my father is Italian and my mother has Lebanese and Dominican roots.  My husband spent years overseas and we are doing our best to ensure they speak several languages so they can be engaged and thoughtful global citizens."
 Before you applied to the planning board position, how did you prepare for the job?
"My first job out of college was as a Ford Foundation/Academy for Educational Development fellow working as a lobbyist and media specialist for CASA de Maryland, the largest Latino and immigrant organization in the state. After working for CASA and SEIU 32BJ, I founded a public relations firm with both local and national clients. I bring to the Planning Board the experience of a community organizer and a small business owner that understands the needs of the people and businesses of our County."
You lost a seat for delegate on District 18. How do you plan on work with Montgomery County families and business even without the delegate seat?
"Running for the House of Delegates was an unbelievable experience. It presented an opportunity to directly engage our residents, to hear about their needs and expectations from their elected officials. The Planning Board offers an incredible opportunity to continue my work of empowering families and businesses in our County."
Fun things now, what do you do for fun? 
"I love watching Elmo, reading Dora and Doc. McStuffins' books, playing soccer, riding bicycles and spending time in our beautiful parks with my family."
As a woman, Latina, mother, business owner, what's the message to Latinas or all women out there who want to become successful in life?
"Always challenge yourself and never, ever stop learning."
Anything else about yourself that you would like to share with our readers?
"I am absolutely passionate about technology and its societal impact."