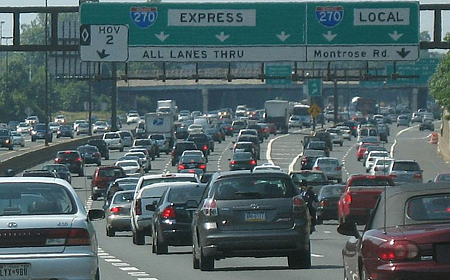 AAA Travel Tip: Thursday's Traffic Tie-Ups Worse of Holiday Weekend
Thursday is the worse day for trying to get out of town to enjoy the long holiday weekend, according to a new report.
According to the National Capital Region Transportation Planning Board, the worst departure time is the Thursday before the long Memorial Day holiday weekend.
AAA Mid-Atlantic is forecasting that 826,900 persons from this area are planning to travel 50 miles or more from home in personal vehicles for the holiday. This statistic is up 5 percent from last Memorial Day due to much cheaper gasoline prices and an improving economy, according to a release from AAA. In 2014, 787,900 Washington area residents made their holiday getaways by personal vehicles.
"Expect plenty of traffic congestion and the bright glow of brake lights on area highways and roadways as nearly 90 percent of all holiday travelers from the Washington metro area hit the roadways for the holidays," said John B. Townsend II, AAA Mid-Atlantic's Manager of Public and Government Affairs.
In fact, according to the transportation board's analysis, you can expect the heaviest congestion on roadways in the Washington metro area between 5 p.m. and 6 p.m. the Thursday afternoon before the start of the Memorial Day Holiday weekend.
The TPB analysis found:
• The average travel speed during the pre-holiday week dropped to its lowest point between 5 and 6 p.m. on Thursday afternoon.
• Thursday was consistently worse than traffic on Friday, surpassing it in each of the five years that were studied.
• Although Thursday saw the slowest average hourly travel speed of the three days leading up to the holiday, the TPB also found that Friday sees traffic-related slowdowns over a longer period of the day, beginning as early as 11 a.m. and lasting into the evening.
The TPB used "commercially available speed information from the last five years provided anonymously by drivers and other travelers via their GPS-equipped smartphones and navigation devices."
Nearly two million motorists will hit the highways, byways, tunnels and bridges across Maryland during the long Memorial Day holiday weekend, according to AAA. The Maryland Transportation Authority (MDTA) is forecasting:
• More than 1.8 million motorists will travel Maryland's toll facilities during the Memorial Day holiday weekend, Friday, May 22, and Monday, May 25.
• That is a 4 percent increase in traffic counts compared to last year.
• More than 360,500 vehicles will cross the Bay Bridge (US 50/301) in both directions during the long holiday weekend.
The authority recommends finding off-peak times to travel to and from the Eastern Shore. Those times this weekend include:
• Thursday – before 10 a.m. and after 10 p.m.
• Friday – before 10 a.m. and after 10 p.m.
• Saturday – before 7 a.m. and after 5 p.m.
• Sunday – before 10 a.m. and after 10 p.m.
• Memorial Day Monday – before 10 a.m. and after 10 p.m.