Animal Shelter Opens March 2 (Photos)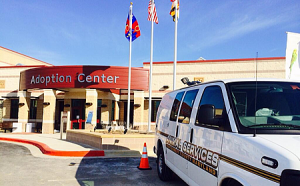 The Montgomery County Animal Services and Adoption Center (MCASAC) opens for business and adoption on March 2 from noon – 5 p.m. at 7315 Muncaster Mill Road in Derwood.
Montgomery County leaders celebrated the completion of the state-of-the-art facility on March 1 with two ribbon-cutting ceremonies and tours of the new building.
"I hope that everyone will use this Center to either adopt a pet, volunteer or take an animal education class," said Montgomey County Executive Isiah Leggett. "We've turned our vision into reality. It is not just the animals but everyone who loves and cares for them who will reap the benefits of this wonderful facility for years to come. Thank you to all those who have worked with us, including the non-profit MCPAW, Montgomery County Partners for Animal Well-Being, which is continuing to raise funds to enhance the Center. "
"This is the first time in 20 years that the police department has opened a new facility, so you can imagine how pleased we are today," said Police Chief Tom Manger. "The Montgomery County Animal Services Division became part of the police department 18 years ago. Our core mission hasn't changed, but this brand-new facility allows us to run a public adoption center, provide more animal-related education resources to the County and better meet the County's ever-growing animal-related needs."
"It is our time to make a difference in Montgomery County, for every citizen is important to us, and every animal matters to us at the Montgomery County Animal Services and Adoption Center," said Mary Healey, Director of the Animal Services Division and the new center.
The new facility replaces the Rothgeb Drive shelter that lacked sufficient space and equipment to meet current needs. That 15,737 square-foot structure was built in 1975.
Just last year, the Police Department's Animal Services Division and the former shelter operator, the Montgomery County Humane Society (MCHS), received 12,500 animal-related calls for service; the shelter staff handled 7,671 domestic and wild animals; and MCHS reunited 979 lost pets with their owners and coordinated adoptions of 2,765 domestic animals to new homes.
"I hope this new facility will help us to highlight that animals in our shelters are warm and welcoming and are going to make great companions. They're not behavioral problems or sick animals," said Council President Craig Rice. "Animals usually end up in shelters because of a human difficulty – someone's lost a job, there's been a foreclosure on a home or someone's allergic – all these reasons that may force the animal to be left without a home."
Chairman of the County Council Public Safety Committee Phil Andrews said, "Montgomery County residents love animals and this facility demonstrates that and will allow more animals to find loving homes."
At 47,193 gross square-feet, the three-building complex greatly expands the County's ability to care for animals; as well as serve as a public adoption center and community education resource for animal care issues. The entire new facility is operated by the Montgomery County Police Department's Animal Services Division, which oversees the isolation, quarantine, and holding of feral, ill or seized animals; investigates complaints about animal cruelty; and provides the licensing and inspection of animal-related business facilities, such as pet shops and riding stables.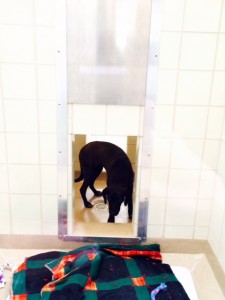 "The new Animal Services and Adoption Center better aligns Montgomery County with the values of its pet-loving residents," said Wayne Pacelle, President and CEO of the Humane Society of the United States. "People here want to see more adoptions of homeless animals and this new facility provides greater capacity to get the job done."
The first floor of the one-and-a-half story building has navigable corridors to accommodate all animal care and housing areas and includes a community room and an on-site veterinary clinic. Three public entrances are located along the south façade; one for adoptions, one for other animal services, and a third entry for educational activities. Staff and volunteers have a walking trail and outdoor screened exercise runs to provide adoptable animals with access to fresh air and exercise.
The MCASAC is designed to achieve a LEED (Leadership in Energy and Environmental Design) Silver certification by incorporating environmentally-sensitive design elements, including skylights and large windows to allow daylight into most of the occupied spaces; a vegetation-covered roof over the adoption areas; water-efficient plumbing fixtures; an energy-efficient building envelope and HVAC design, and; use of recycled and locally manufactured materials. The HVAC systems, designed to provide twelve air changes per hour to help reduce the spread of odors and disease, will contribute to a healthier environment for both people and animals at this new facility. The grounds include a 613 gross-square-foot separate bulk food storage building and a 1,354 gross-square-foot pole-barn with metal siding to provide care for horses and other livestock. It includes stalls, stacking coops, a feed storage area and a fenced outdoor exercise paddock.
In July 2010, the County Planning Board approved the use of seven acres of a 51-acre parcel for the MCASAC with the remainder of the parcel becoming the new Laytonia Recreation Park.
The construction contractor for the center is Coakley & Williams Construction Inc. The architect is Proffitt & Associates Architects, PC. The cost for constructing this project is approximately $21.8 million.
For more information about the Animal Services and Adoption Center, visit the website at http://www.montgomerycountymd.gov/animalservices.


Related: