Are Your Kids Financially Literate? Four Ways To Teach The Value Of A Dollar
Financial literacy can be learned at any age, but the earlier we start teaching our kids, the better prepared they will be for their adult lives. A recent Gallup Poll found that "financial literacy is crucial for students to successfully navigate their futures." Gallup measured the level of "financial literacy" in students grades five through 12 by assessing "if they have a paying job, if they are learning how to save and spend money, if they have a bank account with money in it, and if they are involved in at least one activity, such as a club, music, sports or volunteering." While these are concrete metrics for financial literacy and responsibility, the Poll fails to explain how these students were able to meet these standards. What lessons did their parents instill to help them get a job at a young age? How were they taught to save and spend money wisely? Who helped them open a bank account?
As a financial advisor and a father of a young daughter, I am frequently asked by other parents for advice on how to teach children the value of a dollar. To help you prepare your kids for a financially sound future, here are my top four tips for teaching children personal finance skills.
Explain why you go to work. Explain that you go to work to make money that pays for the house, the car(s), food and fun.  When you take your child to the doctor, or when you pass a construction site, explain that these people are working and doing their job just like you do when you leave the house in the morning.  I started these conversations with my daughter when she was as young as four.  Later, when she would want me to be home more, I was able to easily explain that I needed to work in order to pay the bills.  She is eight now and understands the tradeoffs of the time needed to earn money and time for having fun – which is a very high priority of ours!
Include them in the spending decisions at a young age. Show them that there is a charge to attend their activities and gain their commitment that they attend every class and to try to enjoy it.  Or, for example, when shopping for toys ask them to tell you not only which toys they like best but also what the prices are.  And then ask them if the more expensive toy is worth, for example, three extra ice cream cones.  You might be surprised at how they may arrive at an economical decision and how they sharpen their thought process.
Make the grocery store your classroom. Let them see the prices for competing items and allow them to select an alternative. Teach them about store brand pricing versus the brand name they see advertised on TV.  And talk with them about what "on sale" means, and show them that one-week apples may be a bargain compared to strawberries but the next week strawberries may be the bargain.  Afterward, on the way home, make it fun and take them for a treat with the money you saved by being a smart shopper!
Give them a small allowance for household tasks. Young children can complete routine tasks like sorting the clean silverware or opening mail and putting their toys away.  It helps them feel like a part of the team, and paying for their work creates a reward and incentive system.  Ask them how they want to spend their money or if they want to add to what is already in their piggy bank – or perhaps they want to help someone less fortunate with a donation.  Watch them smile as they take pride and enjoy whatever decision they make!
Of course fun is the name of the game and if you can make it a game, then it's like Julie Andrews sang in Mary Poppins:
"In every job that must be done
There is an element of fun
You find the fun and snap!
The job's a game
And every task you undertake
Becomes a piece of cake………."
Mark Avallone, MBA, CFP®, CRPS®. www.PotomacWealth.com
Learn more about Mark Avallone's recently released book, Countdown To Financial Freedom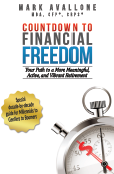 Securities and Investment Advisory Services offered through H.Beck, Inc., Member FINRA/SIPC. 6600 Rockledge Drive, 6th Floor, Bethesda, MD 20817 301.468.0100. Potomac Wealth Advisors, LLC is not affiliated with H.Beck, Inc.
This material represents an assessment of the market environment at a specific point in time and is not intended to be a forecast of future events, or a guarantee of future results. This information should not be relied upon by the reader as research or investment advice regarding any funds or stocks in particular, nor should it be construed as a recommendation to purchase or sell a security. Past performance is no guarantee of future results. Investments will fluctuate and when redeemed may be worth more or less than when originally invested. Diversification and asset allocation do not guarantee against loss. They are methods used to manage risk.
* Opinions expressed are subject to change without notice and are not intended as investment advice or to predict future performance.
*The economic forecasts set forth in the presentation may not develop as predicted and there can be no guarantee that strategies promoted will be successful.
* Consult your financial professional before making any investment decision.