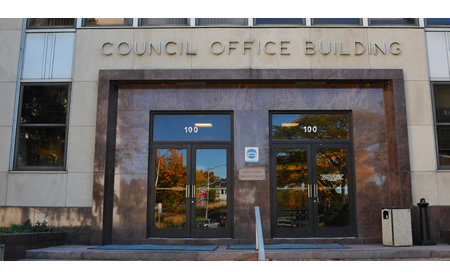 Asbestos Project Begins This Week at Montgomery County Council Office Building
Asbestos removal begins this week on the fourth floor at the Montgomery County Council Office Building (COB) at 100 Maryland Avenue.
Signs have been posted at the entrances and exits of the building to alert passersby of the asbestos project.
Don Scheuerman, a section chief for Montgomery County's Division of Building Design and Construction, said the asbestos was not a surprise to county officials because of the building's age. The Council Office Building is currently undergoing a $30+ million renovation that will make it more energy efficient. The aging office building dates back to the 1950s.
Capital Projects Manager Charlie Edwards said the asbestos abatement would begin on Wednesday night and it is expected to take five weeks, depending on how much is completed around the holidays. The removal is only taking place on the fourth floor, and employees who once worked on that floor have been relocated to offices at a new location on Rockville Pike.
According to DGS, the work is taking place at night, and is contained. Officials with the Department of General Services said there is no risk or exposure to the building's occupants and air monitoring and ventilation will be set up as safety guards around the removal area.
Legislative Information Officer Neil Greenberger, who has an office on the 6th floor, said he has not heard any concerns about the asbestos removal.
As for the energy renovation project, that work is being done by Noresco, a county contractor, with offices in Fairfax, VA. The county is applying for permits for the project from the city of Rockville. The renovation work is currently in its first phase. That phase is expected to conclude by May of 2017. COB employees on the 5th and 6th floors will be relocating their offices as the work advances.
You can find more information about this project on the county's website, here.