Awaiting a Snow Outlet (PHOTOS)
The Blizzard of 2016 has come and gone and on a brilliant Sunday afternoon, most county residents found their way outdoors to begin the big cleanup.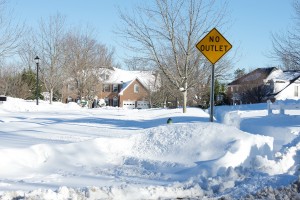 Some upcounty residents who are lucky enough to be located near a primary route found roadways wet and passable Sunday afternoon. Some upcounty residents were not as fortunate as many of the secondary and cul-de-sac roads haven't seen a snow plow. That did not stop many from working to open up sidewalks and driveways in anticipation of warming temps and the sight of a snow plow.
I was able to get out and attend County Executive Ike Leggett's media conference at the Emergency Operations Center (EOC) in Gaithersburg on Sunday where he and staff members sought to ease county residents snow anxiety as the county now turns their efforts to clear major thoroughfares and plow side streets over the next 48 hours.
National Guard helped the county handle the extreme weather conditions in providing logistical support especially with transporting residents of the Potomac Oaks center to the Bohrer Activity Center in Gaithersburg after their
complex suffered a collapsed roof due in part to the 24" to 36" inches of snow that blanketed most of the county.
Leggett found time on Sunday afternoon to thank workers at the EOC and then moved on to Bohrer Activity Center to view first hand the Red Cross Operation for the Potomac Oaks displaced residents.
Perhaps the best news for the school aged residents is that Montgomery County Public Schools are closed through Tuesday at this time.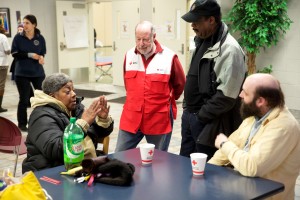 Photo|Phil Fabrizio