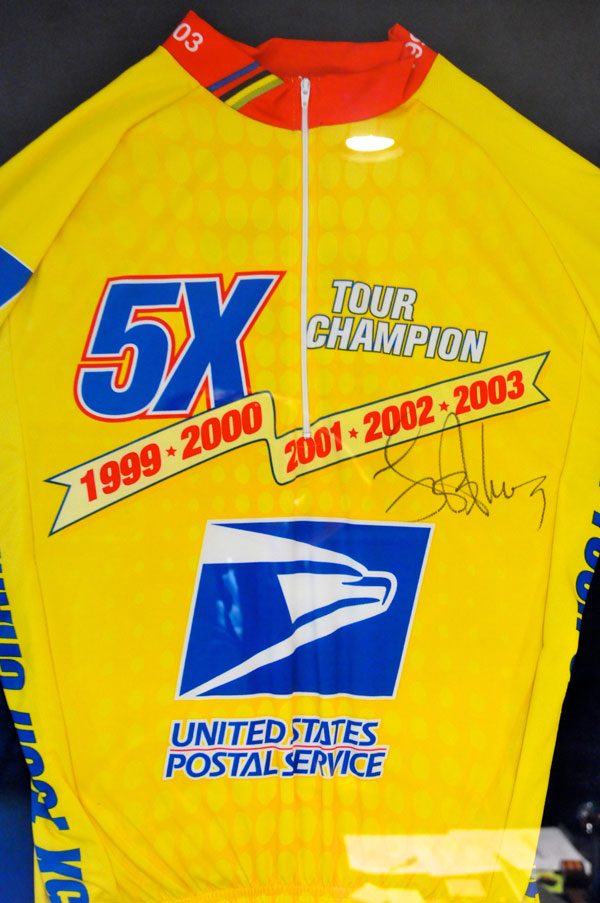 Beak In A Box
This is second in a series called "Not Rain, Sleet, Snow, nor Floyd or Lance's Yellow" about the Postal Service sponsorship of its ProCycling Team.
In a strange way it started out on July 6, 1992 when "Carvin" Marvin Runyon was appointed the 70th Postmaster General. Runyon, the former Ford Motor Company and Nissan engineering executive got his name "Carvin" when he headed up the Tennessee Valley Authority (TVA). He turned that government agency around while firing thousands of TVA employees during his tenure there. He eventually would do more of the same with the USPS but his lasting legacy for the "company" was an iconic brand symbol and giving a green light to a new marketing strategy.
Runyon totally redesigned a stodgy USPS, making it more efficient with lessons learned from Ford Motor – but he also thought of himself as an artist. He toyed with the USPS logo – the old "Bird on a Wire" brand template, the official seal, an eagle on thick wire surrounded by nine stars – that was born around 1970. He instructed the USPS logo cops to craft a symbol, a corporate logo, which showed forward movement – cutting edge, quick flight, and speed. He drew up a parallelogram box with an eagles' beak inside – tilted it forward.
In October 1993 the new corporate logo was released (but did not replace the official seal). Runyon eventually left the USPS in 1998, the last executive brought in from the "outside" as a Post Master General to run the USPS. He left, but not without disciples.
One such disciple he brought in was a marketing guru named Loren E. Smith. Smith was the USPS's Chief Marketing Officer in 1997 and member of the Executive Committee. Smith was in charge of changing the brand of the USPS, to bring in marketing opportunities, to sell new and promote existing products among many other functions. He left the USPS in 1999 under a cloud of scrutiny shortly after Runyon left.
Those middle Runyon years were difficult for the Service as it right-sized and took on competitors in a challenging services market place.
The most obvious public change was the rebranding of the service. The newly designed corporate logo was to be placed in the public view – on drop boxes, on vehicles, on packaging materials, on uniforms, on buildings, flags and all things postal, including new advertisements.
Back in the late 90's "service" was a hard concept to build on for market differentiation. United Parcel Service (UPS) and Federal Express (now FedEx) was very successful using service, specifically overnight service, as a strategic differentiator. It was easy to paint a slow and stodgy Postal Service against a quick package service like Federal Express – "When it absolutely, positively, has to be there overnight" – just FedEx it.
Loren Smith, the former Colgate-Palmolive and Kraft Foods executive, took Runyon's lead and revamped promotions of the USPS in sporting arena's, at sporting events, on network TV – most notably Major League Baseball and the NCAA Tournament. He even reached out to a growing viewer market in Olympic sports, called cycling. It was here that he and the Postal Service would strike gold, or I should say yellow.
The USPS had previously been an Olympic Sponsor in 1992, as well as, official sponsor for the NCAA Tournament in 1996 were among some of its higher profile sponsorships. But these types of sponsorships only brought with it increased levels of political scrutiny and investigations.
Back then (97-98) I did not know, either rightly or wrongly, if Smith was an avid cyclist. I don't really know for sure now – but he eventually hooked up the Postal Service with a sport marketing company based in Norristown, PA called Threshold Sports LLC. It was run by a former Olympic cyclist David Chauner and an associate Jerry Casale whom all organized something called the nationwide US ProCycling Tour.
American professional cycling ran a premier event at the Philadelphia International Cycling Championship for 28 years – until recently when in January 2013 the event was canceled in part because of Casale's recent death and partly due to the loss in 2012 of big pocket sponsors, such as TD Bank. The Postal Service had at one time become a major sponsor of this event prior to and including some of the Armstrong blue train years.
In 1993, prior to the Postal Service involvement, a little known young rider named Lance Armstrong shook up the US Pro Cycling Tour at the Philadelphia Classic when he crushed the infamous Manayunk Wall coming up from Fairmont Park in Philadelphia to win the Triple Crown of cycling series (Thrift Drug Classic in Pittsburgh and the Kmart Classic in West VA) to win the $1 million purse. Armstrong would continue riding with some notoriety but eventually dropped from public view (with a well documented battle against cancer) until he resurfaced on the Postal Service team in 1998, managed by Tailwind Sports.
It had to be part collaboration and part fate that the San Francisco based Tailwind Sports, known to the Philadelphia based Threshold Sports, LLC and the US Postal Service collided to create a corporate sport sponsorship for the ages. Many including Floyd Landis and his legal team will many years later file a "qui tam" suit to call it a US government sponsorship but quite frankly if anyone truly understands Postal Service accounting (and contracting) the funds were from you and me the rate-payers, users of this quasi-public service, and not the federal government.
In 1998 my cubicle was 75 feet from the CMO's office. I left Operations for a position with Customer Relations in 1998. Lacking desk space with my CR mates I was given an available space on the other side of the hallway in Marketing. In the cube next to me was a part-time outsider, whose name and face time has etched away, but I knew his task was to set up and run a "bicycle" contract. One day in early 1998 he came into his cube and proclaimed loudly, "We signed him." Acting like the cubicle prairie dog that I was,I asked who? He said, "Lance Armstrong" and I said, "That's nice, so who is he?"
That my friends was indicative of 1998 life in the "pink palace" that is postal headquarters, not many knew that we had a cycling sports sponsorship, thousands across the country could have cared less, and let alone any of us knew jack about the sport or the players nor how the game was played. But we are quick learners and remember this, we are the world's best crisis managers.
Loren Smith never had long to revel in his sponsorship coup, the Postal ProCycling Team, to his peer postal executives because he left the organization in 1999. He left it to eventually assume a CEO position with an Internet start up called Stamps.com. Yes, that is the same company you hear being advertised today, some 15 years later, on ESPN's Mike and Mike in the Morning simulcast radio program.
Oh, and Smith, after his departure obtained a seat on the board of directors of Threshold Sports, LLC. Today he is listed as a consultant with the Santa Fe Group in Taos, NM. I still don't know if he rides a bike.
Today, the only images that remain from that blue train time frame is the branded "beak in the box" corporate logo, and constant reminders from news services photos of Lance in a yellow jersey wearing the brand as he rectifies his past.