Blog Post- The Denizen's Duty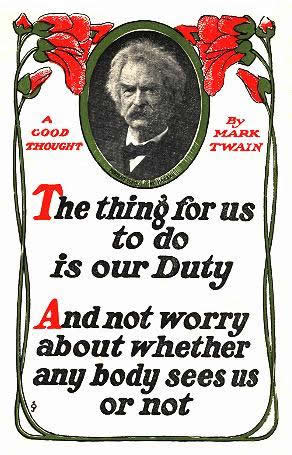 November 5, 2011
Dear Reader,
As I launch into a self-initiated campaign to register residents of South Baltimore to vote, as I awake early on a cold Saturday to beautify a vacant lot in the name of our President, and as I sit-up late each evening, drawing inspiration from old episodes of the West Wing, I sometimes wonder, Why?
It would seem that I believe that investing time in one's community, or even in another's community, is an intrinsically worthwhile venture. Yet I acknowledge that I have multifarious motivations for volunteerism, altruism, and for expressing interest in the ideas of others with whom I might not ordinarily fraternize.
As I reflect upon my ambition to run for public office, I question if my actions are driven largely by ego, or if there is some other force at work in my mission to improve society through productivity and dialogue. Should it be my destiny to never attain public office, to what extent would I still allocate my energies towards the improvement of my community? Should public recognition never be mine to claim, would I still look back upon my efforts with satisfaction and a sense of having applied my life, my resources, and my spirit towards the betterment of the world? And then I ask myself, what better course might one take?
I wish to be great. I wish to be successful. And so I ask, from whence comes a sense of greatness? How ought one best consider the constitution of success? Reader, how would you define these in your life, and have you considered whether there is a discrepancy between your current path and the path that leads to greatness and success according to your definition? Consider if you might need to modify your definitions, or whether it is your path and direction that might need adjustment?
I have found that the path that minimizes this discrepancy, that aligns one's intentions and one's actions, is the path of Integrity. Integrity, that essential mortar of Character, of which Honor and Citizenship are built, has, for me, functioned as the foundational architecture of Self, of Identity, and of Conscience. I would opine that it is most wise to understand and pursue greatness and success through the vehicle of one's Integrity. Having embraced wholeness of thought and action into one being, one then may set about considering the singular, though often serpentine, path that one might take through life (for without Integrity, one's path would be plural, as that of intention and action diverge).
In setting myself on a path of my own choosing, my first task as captain of my ship is to be mindful that a captain must continually adjust his vessel's course to account for the vicissitudes of the winds of time. There is no one path, there is no constancy but the certainty that at any time one might assume the helm and take control of ones own course, and though one's many ports of call may often differ from those that one had originally set sail for, one may always place one's faith in the True North of one's internal compass (stabilized by Integrity), and in the sturdy deck-hands, intermittently boarding and disembarking at various ports of call, whom you have chosen to populate the inner-most circle of your life.
My preference is to set the definitions of greatness and success within the purview of that which I may control. Process-driven definitions are often more directly influenced by one's thoughts and deeds than outcome-based definitions, since outcomes are the consequence of so many inputs in addition to one's own efforts. These process-driven definitions must be approached through the lens of one's values. It follows that to live each day with intention, to own greatness and success, one must be conscious of one's value structure. This structure may be ever-evolving, and so too then would be one's definitions.
This citizen's definition of success would entail living a life that is ever-overflowing with thought, love, communication, and growth in all three. Greatness, then, is found in attaining successive successes by holding true to one's self-defined virtues and expectations. Following this line of thought, the path to becoming an integrated member of something larger than oneself through life-long community engagement, political activism, and through a continual appraisal of one's motivations and the state of one's Integrity, might very well constitute a sense of greatness and success that this American could be proud to have lived.
It seems that our story is one of the conscription of one's actions into service towards the construction and maintenance of an Identity, imbued with meaning. Beware, Reader, of finding yourself driven headlong into an unpromised tomorrow, upon which one's actions are to be justified ex-post-facto. Live today because your living of today is justification enough for the breath in your lungs and the sweat on your brow. Be mindful you have only yourself to answer to when the question is posed, "Have you any regrets? Have you drawn the marrow from life? Have you truly lived your OWN life, set your own course, and has Integrity forever been the needle guiding your internal compass?"
An affirmative response to these, dear Reader, is the truest indicator I have ever known to a life well and fully lived.
Adieu, dear Reader,
The Baltimore Citizen
This was originally posted in Revealing Our Humanity.