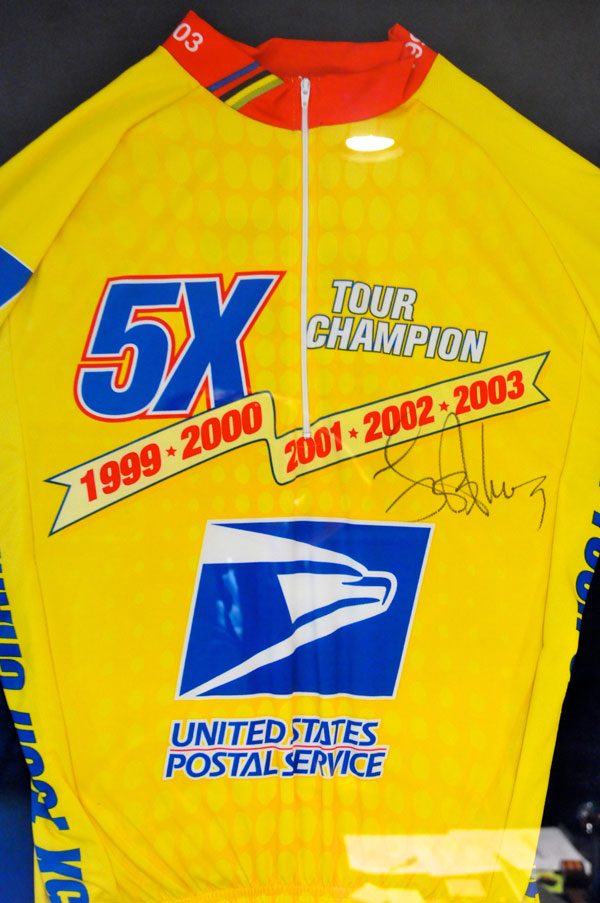 Blue Train Wreck Years – 2001- 2003
This is fifth in a series called "Not Rain, Sleet, Snow, nor Floyd or Lance's Yellow" about the Postal Service sponsorship of its ProCycling Team.
What has been evident looking at this weeks' TDF two rides up L'Alpe d'Huez (Stage 18) on NBC Sports Network (NBCSN) was the lack of American flags being waved on the roadside. Every other cycling-mad country had their fair share of party flag-waving. Even NBCSN bringing out former TDF Winner, Greg Lemond to do color commentary during the Stage 18 after show just won't cut it for an American audience. However, it was not always like that for OLN – the predecessor of NBCSN. It was during those Postal Blue Train years that America flags were everywhere on the Tour. OLN's market share and audience grew, as Americans became cycle crazed. Ultimately, bicycling has never been the same since.
However, things were coming undone during those years of 2001 to 2003. I choose to call that time frame – The Blue Train Wreck years.
Fast forward to today and again we see that there is a display by factions to attack the Yellow Jersey currently and firmly on the back of Chris Fromme (UK), this year's TDF leader. The PED's (performance enhancing drugs) claims are starting to rain down on Fromme as it did for Armstrong during the Blue Train Wreck years. Perhaps one future day it will stop when a Frenchman is finally on top – but I doubt it.
The questionable claims of Armstrong's PED use was not the demise of the Postal Blue Train – it certainly did not help matters – but it was a combination of many other factors some seen and others unrealized that worked to erode this "trains" track support.
By 2001, Armstrong was enjoying an envious public persona, he had by August 2001 his 2nd of two Sports Illustrated (SI) covers; a new book co-authored by him and Washington Post columnist Sally Jenkins – It's not about the Bike – My Journey Back to Life; and a 2000 ESPY Award for the Comeback Athlete of the Year. The Beak in the Box emblem now followed him wherever he went.
Meanwhile, internally the USPS was thrilled with their new founded "heroic brand" popularity. On the streets cyclist wore the blue jersey and spandex riding pants. Armstrong's SI covers had him in the TDF yellow Beak in the Box jersey. Trek bikes had USPS versions, the branded emblem, PMG's Runyon's brainchild, was mainstream everywhere. We even had a new yellow flag. Silently, the Postal Service's competitors were seething.
United Parcel Service (UPS) together with FedEx watched from the side of a mountain – with no comparable national hero to schlep their products. Branding you see makes a difference, and speed – or the appearance of – makes it easy for customers to choose one's product service from another.
By 2003 UPS underwent a branding redesign – going from the then longstanding familiar image of a box tied above a shield to a revised diagram of a protective brown and gold shield – UPS entered into their own media created world of Supply Chain Logistics.
NASCAR, with the second largest American viewing audience has been attracting sponsorships with cars emblazoned with branding all over each car for years. UPS began a long-standing association with NASCAR drivers to utilize their new branded shield – in 2003. UPS would eventually move onto using the Logistics theme to associate themselves with the NCAA – in Football and Basketball.
Concurrently, FedEx left to work out how to align itself in a sports minded competitive environment need only to look out the back windows of their Worldwide Campus structure in Germantown, TN for the answer. It was the TPC Southwind Private Golf Course that hosted the St. Jude's Classic that abutted the complex. It would take some time but by 2005 FedEx announced the structure of the FedEx Cup – championship for the PGA Tour. The FedEx Cup was first awarded in 2007.
By the time both competitors moved up into popularized American "heroic branding" the USPS lost their edge. Tailwind Sports contract with the USPS ended in 2003. The American flag waving crazies at TDF events on foreign soils – in France, Spain, the Netherlands, and Italy had come home. Oh, some would remain during the Discovery and Radio Shack years when Armstrong rode for those American organizations – but the luster and team associated accomplishments – seem more shielded than ever before.
UPS and to some degree FedEx did not just stand silently still back then while countering with new brand designs and corporate branding. They attacked the USPS elsewhere, mostly in the regulatory environment and the halls of Congress.
For years since 1972 (till 2006) postage rates came under the scrutiny of the Postal Regulatory Commission (PRC). In this review environment the establishments of rates proposed by USPS were open to public interrogatories by individuals, users, and organizations such as UPS and FedEx, all of whom ultimately questioned the level of product contribution associated with running a semi-private public deliver service.
You better believe that if they didn't get forthcoming USPS responses to those interrogatories they would travel up to Capitol Hill, to various Governmental Oversight committees in the House and Senate to put other pressures on getting an insight to any/all USPS products or agreements.
And so it was with that little known USPS products like the international Priority Mail Global Guaranteed (PMGG) so conveniently schlepped in 2000 by none other than our heroic brand spokesperson – Lance Armstrong – it, along with the Tailwind Contract all were game for possible review.
Next: A yellow flag flies.
Excerpt: I recall that the USPS took the opportunity in 2001 through 2003 to start to wave a flag of their own design, the Order of the Yellow Flag. This yellow flag was designed with an emblem of a postal blue cycling jersey in the middle meant to be awarded to those postal operating districts across the US that exceeded an internal set of operational and service performance metrics. The yellow cycling jersey flag would be hosted to fly in front of major postal facilities. It was placed third in order under the US Flag and the black Missing in Action flag.
Meanwhile, by late 2000 and through early 2001 FedEx began to run silent on USPS activities and a surprise blockbuster announcement would soon change each service relationship for the better.