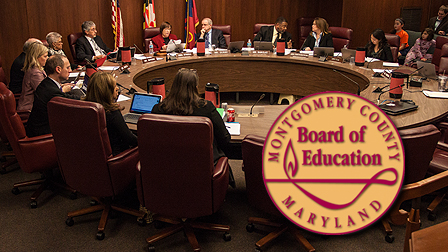 Board of Education At Large Race Heats Up
There are three Board of Education (BOE) seats up for election this year, and the race for the at large seat currently held by Olney resident Phil Kauffman, and who has filed for reelection, is heating up.
Silver Spring resident Jeanette Dixon, a former principal, and Takoma Park resident Sebastian Johnson , who once served as a student member of the board, have both filed for the at large seat.
Other BOE races on the ballot this year, include the District 2 seat currently held by Gaithersburg resident Rebecca Smondrowski and the District 4 seat currently held by Takoma Park resident Christopher Barclay.
Smondrowski filed for reelection last week. So far, no one else has filed for the District 2 seat.
As for the District 4 seat, Barclay has said he is not running for reelection. Silver Spring resident Shebra Evans, who ran unsuccessfully two years ago for an at-large Board of Education seat, has filed for the District 4 seat.
Candidates interested in running have a few more weeks to file their candidacy. The deadline is Feb. 3rd. The Presidential Primary Election is scheduled for April 26th. The General Election is set for Nov. 8th.