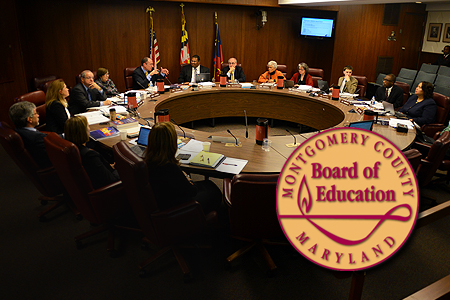 Board of Education Meeting Preview
The Montgomery County Board of Education will meet May 12  at the Carver Educational Services Center, 850 Hungerford Drive in Rockville.
The meeting will begin at 9 a.m., with public agenda items beginning at 10 a.m.
The public portion of the meeting will be broadcast live on the MCPS website and on MCPS TV (Comcast Channel 34). The meeting may be watched live here.
The agenda, with related materials attached, can be found on the Board of Education's BoardDocs site.
9 a.m.: 1.0 Closed Session Approval
1.1 Acknowledgment of a Quorum
1.2 Resolution for Today's Closed Session
10 a.m.: 2.0 Opening of Meeting
2.1 Pledge of Allegiance
2.2 Approval of the Agenda
2.3 School Nutrition Employee Appreciation Week
2.4 Recognition of NAACP Scholarship Recipients
2.5 Pupil Personnel Worker Week
10:15 a.m.: 3.0 Public Comments
3.1 Public Comments
10:45 a.m.: 4.0 Board/Superintendent Comments
4.1 Board/Superintendent Comments
4.2 Board Committee Updates
11 a.m.: 5.0 Human Resources and Development
5.1 Monthly Report
11:10 a.m.: 6.0 Item of Discussion
6.1 Secondary Comprehensive Health Education Curriculum Framework
12:30 p.m. 7.0 Lunch and Closed Session
1:30 p.m. 8.0 Consent Items
8.1 Contracts of $25,000 or More
8.2 Contract Approval for Bid No. 7065.11, Custodial Supplies
8.3 Award of Contract – Ashburton ES Improved Access to Schools
8.4 Award of Contract – Watkins Mill ES Improved Access to Schools
8.5 Award of Contract – Kitchen Servery Replacements Extension
8.6 Architectural Appointments – Americans with Disabilities Act Compliance/In-House Projects
8.7 Consultant Appointments – Energy Management Automation Systems Extension
8.8 Architectural Appointment – Broad Acres ES Addition Project Feasibility Study
8.9 Architectural Appointment – Burning Tree ES Addition Project Feasibility Study
8.10 Architectural Appointment – South Lake ES Addition Project Feasibility Study
1:35 p.m.: 9.0 Monthly Financial Report
9.1 Report
1:45 p.m.: 10.0 Item of Discussion
10.1 Milestone – Elementary Schools
3:15 p.m.: 11.0 Board Policies
11.1 Tentative Action, Policy DNA, Disposition of Board of Education Property
11.2 Nonsubstantive Changes to Policies EIA, Self-Insurance; GEC, Appointment of Supporting Services Personnel; and GIH, Funding Other Post-employment Benefits
3:45 p.m.: 12.0 Board of Education Items
12.1 Future Closed Session Resolution
12.2 Report of Previous Closed Session
12.3 Appeals
12.4 New Business
3:55 p.m. 13.0 Items of Information
13.1 Legal Fees Report
13.2 Construction Progress Report
4 p.m.: 14.0 Adjournment
14.1 Adjournment
# student vote does not count. Four votes needed for adoption.
* Times listed are intended for guidance only; unless changed by the Board, the order in which items appear will be followed.