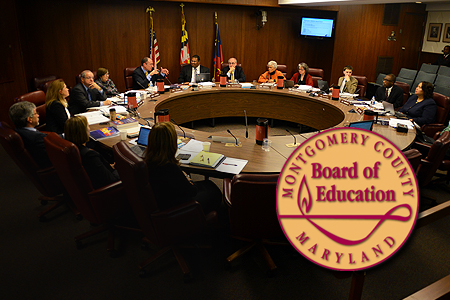 Board of Education Meeting Preview
The Montgomery County Board of Education will meet Feb. 24  at the Carver Educational Services Center, 850 Hungerford Drive in Rockville.
The meeting will begin at 5 p.m., with public agenda items beginning at 6 p.m.
The public portion of the meeting will be broadcast live on the MCPS website and on MCPS TV (Comcast Channel 34).
The agenda, with related materials attached, can be found on the Board of Education's BoardDocs site.
5 p.m.:  1.1 Acknowledgment of a Quorum
1.2 Resolution for Today's Closed Session
6 p.m.: 2.0 Opening of Meeting
2.1 Pledge of Allegiance
2.2 Approval of the Agenda
2.3 Women's History Month
2.4 Recognition of Educators Who Earned Certification from the National Board for Professional Teaching Standards in 2013
6:15 p.m.: 3.0 Public Comments
6:45 p.m.: 4.0 Board/Superintendent Comments
7:05 p.m.: 5.0 Consent Items
5.1 Contracts of $25,000 or More
5.2 Contract Approval for Bid No. 183632, Local Telephone Services – Extension
5.3 Contract Approval for Bid No. 532590001180798-V, Other Voice Services
5.4 Contract Approval for Bid No. GS-35F-0765R, Network Wiring Installation and Integration – Extension
5.5 Contract Approval for Bid No. 7067.4, Computer Network Equipment, Software, and Services – Extension
5.6 Award of Contract – Leasing of Relocatable Classrooms
5.7 Appointment of trustee to Montgomery County Public Schools Retirement and Pension Systems Trust
7:10 p.m.: 6.0 Items of Discussion
6.1 Boundaries and Facilities Update (Recommendation for Naval Support Activity Bethesda School Assignment)
6.2 Alternatives
7:30 p.m.: 7.0 Item of Discussion
7.1 Alternative Programs
9 p.m.: 8.0 Items of Legislation
9:30 p.m.: 9.0 Board of Education Items
9.1 Future Closed Session Resolution
9.2 Report of Previous Closed Sessions
9.3 Appeals
9.4 New Business
9:45 p.m.: 10.0 Adjournment
# student vote does not count. Four votes needed for adoption.
* Times listed are intended for guidance only; unless changed by the Board, the order in which items appear will be followed.