Board of Education Sets MCPS 2016-2017 School Calendar (PHOTO)
After postponing the decision last week, the Montgomery County Board of Education set the school year calendar for 2016-2017 on Dec. 14th. The school year will begin on Aug. 29, 2016 and end on June 16, 2016.
According to a news release, "Based on concerns expressed about the earlier start of school on Wednesday, August 24, 2016, proposed in the second draft of the school year calendar submitted to the Board December 8, 2015, I have revised the recommended 2016-2017 calendar so that the first day of school again will be on Monday, August 29, 2016," Interim Superintendent Larry Bowers said.
The new calendar takes into consideration the resolution adopted on November 10, 2015 for September 12, 2016 to be a professional day. The Board voted 6-to-2 in favor of moving a professional day in consideration of the Muslim holiday Eid al-Adha.
Related Posts: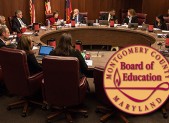 After postponing the decision last week, the Montgomery County Board of Education set the school year calendar for 2016-2017 on Dec. 14th. The school year will begin on Aug. 29, 2016 and end on June 16, 2016. According to a news release, "Based on concerns expressed about the earlier start of school on Wednesday, August 24, […]
Montgomery County School Board members voted 6 to 2 in favor of  moving a Professional Day from the 2016-2017 school year to September 12, 2016, which may coincide with the Islamic holiday Eid al-Adha. This is a major victory for the county's Muslim community, after years of petitioning for equality on this issue. In this MyMCMedia Extra […]