BOE: Two Silver Spring Schools to Remain "Paired"
The Montgomery County Board of Education on Nov. 18 unanimously approved Superintendent of Schools Joshua Starr's recommendation that New Hampshire Estates and Oak View elementary schools remain "paired," meaning students attend Pre-K through grade 2 at one school (New Hampshire Estates) and grades 3 through 5 at the other school (Oak View).
A Roundtable Discussion Group met for several months and provided a report to the superintendent for his consideration. In his recommendation, Dr. Starr said that unpairing the schools would require additional construction and could lead to increased socioeconomic disparity among the schools. Read Dr. Starr's recommendation.

Related posts: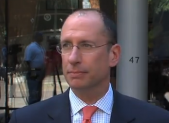 Superintendent of Schools Joshua Starr is recommending that grade configurations at New Hampshire Estates and Oak View elementary schools remain as they currently are with New Hampshire Estates serving students in prekindergarten through grade 2, and Oak View serving grades 3 through 5. Dr. Starr is also recommending an attendance zone for a new elementary […]