Building Fire in Rockville (Photos & Video)
UPDATED Montgomery County firefighters battled a two-alarm fire at a one-story building at 1076 Taft Street in Rockville on April 14.
Montgomery County Fire Spokesperson Pete Piringer said on his Twitter account that approximately 100 firefighters responded to the scene and heavy fire was showing through the roof as many arrived. Piringer reported a partial building collapse as well. There were no injuries reported.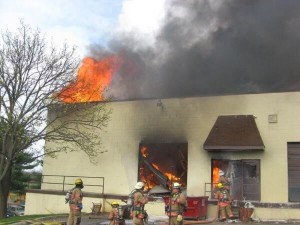 According to Piringer,  investigators believe the incident was an accident ignited by a spark from power tools that then caught nearby combustibles on fire. Piringer said the cost of damage, to the building and its contents, was estimated at one million dollars.
Piringer describes the site of the fire as a carpentry and building design shop. Some roads in the area of Taft Street and Gude Drive were closed this morning because of the large fire presence.
You can watch some of the firefighting action in this MyMCMedia extra video:
PHOTOS | MCFRS & MyMCMedia
Traffic Advisory – some streets around Taft St CLOSED, due to large fire/EMS presence, off Gude Dr pic.twitter.com/8h6tkdl8cX

— Pete Piringer (@mcfrsPIO) April 14, 2014
Taft St, Rockville E703 arrived & encountered heavy smoke coming from Kevin Smith Bldg & Design Carpentry shop pic.twitter.com/IhmLDfSbQw

— Pete Piringer (@mcfrsPIO) April 14, 2014
@MCFRS_FireChief Steve Lohr joins Ops AC Goldstein, Duty Chief Jones Batt Chief Davis in command vehicle in IFO bldg pic.twitter.com/yaggP8L8zB

— Pete Piringer (@mcfrsPIO) April 14, 2014
Taft St – heavy fire conditions in commercial/industrial bldg, no injuries pic.twitter.com/KLhYU038CN

— Pete Piringer (@mcfrsPIO) April 14, 2014