Catherine Hoggle Appears in Court, Judge Orders Competency Hearing (VIDEOS)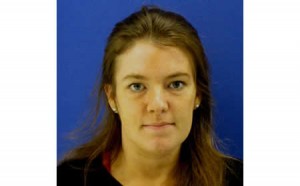 Handcuffed, in leg shackles, wearing eyeglasses and with her hair pulled back, a thinner Catherine Hoggle appeared in a Rockville district courtroom on Feb. 22 in front of Judge John Moffett. It was her fifth court hearing since she was ordered to undergo treatment for mental health issues at Clifton T. Perkins Hospital in Jessup over one year ago.
Hoggle is the last known person to have seen her young children, Sarah (5) and Jacob (3) before they disappeared from their Clarksburg home in September of 2014. The 29-year-old mother faces misdemeanor charges of neglect, hindering and obstruction in their disappearance.
According to documents discussed in court today, doctors at the state hospital say Hoggle remains incompetent to stand trial on those charges.
But family members disagree. Her mother, her aunt and Troy Turner, the father of missing Sarah and Jacob, have filed affadavits stating they believe Catherine Hoggle is competent based on their conversations and interactions with her.
State's Attorney John McCarthy talked about those statements today in court as he also raised questions about Hoggle's competency status. Noting how long she has been receiving treatment, he asked the court for a competency hearing so he could have the opportunity to challenge the doctors at the state hospital. McCarthy said he also wants to hire an independent doctor to evaluate Hoggle's competency.
At one point at the Feb. 22nd hearing, McCarthy even asked Turner to join him in front of the courtroom to answer some questions about Hoggle's competency. Despite objections from defense attorney David Felsen, Judge Moffett allowed it. Hoggle was standing in between both her defense attorneys as Turner told the court why he personally thinks the mother of his missing children is mentally competent.
After hearing both sides, Judge Moffett decided to set a competency hearing for April 25.  He told lawyers for the state and defense to clear their calendars for April 25th and April 26th in case that hearing runs long. Noting there's already been six evaluations, Felsen said he doesn't think anything has changed in regards to his client's competency.
Family and friends of both Hoggle and Turner attended today's court hearing. Also in the courtroom, the lead Montgomery County police detective who is investigating the disappearance of Sarah and Jacob. Outside the courthouse, Lindsey Hoggle, the mother of Catherine Hoggle and the grandmother of the missing children, said her number one concern is finding Sarah and Jacob.
MyMCMedia asked Felsen how long Hoggle can be treated for mental health issues at the state hospital.  He said, according to state statute, she cannot be held for more than three years on the misdemeanor charges.