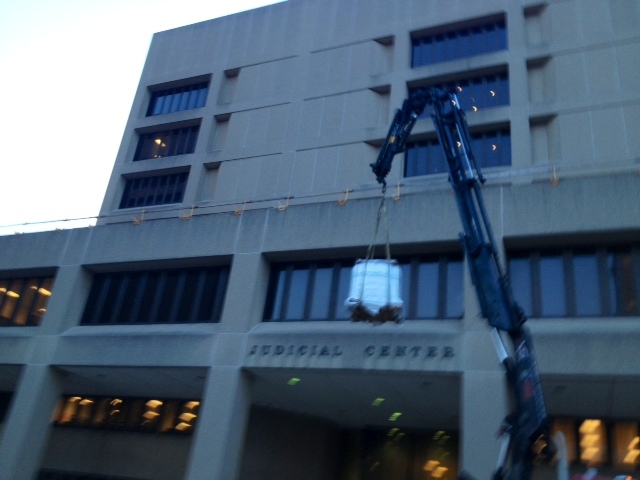 Circuit Court South Tower Ribbon-Cutting Set for May 15
Montgomery County Executive Isiah Leggett, County Council President Craig Rice and John W. Debelius III, administrative judge for the Montgomery County Circuit Court and Sixth Judicial Circuit, will celebrate the opening of the new Montgomery County Circuit Court south tower at 50 Maryland Avenue on May 15. The six-story building is connected to the original north tower, providing a centralized home for the Family and Juvenile Divisions, 10 courtrooms, eight hearing rooms, offices and mediation facilities. The south tower's state-of-the-art technology makes this new space the most environmentally friendly courthouse in Maryland. The addition is designed to meet Gold Leadership in Energy and Environmental Design (LEED) guidelines.
Also attending the ceremony will be Montgomery County Councilmember Phil Andrews; Senator Brian Feldman; Delegates Charles Barkley and Kathleen Dumais; Chief Judge Mary Ellen Barbera; District Administrative Judge Eugene Wolfe; Retired Administrative Judges Paul H. Weinstein and Ann S. Harrington; State's Attorney John McCarthy; Sheriff Darren M. Popkin; Clerk of the Court Loretta E. Knight; State Court Administrator Pamela Harris; Circuit Court Administrator Judy K. Rupp; District Public Defender Brian Shefferman; and Montgomery County Bar Association President Mallon Snyder.