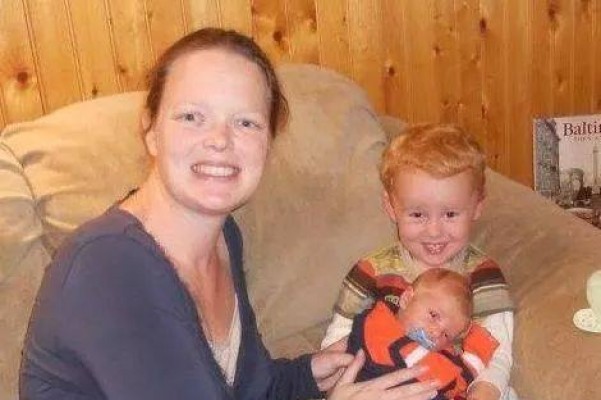 Community Rallying to Help Local Victims of Gaithersburg Plane Crash
UPDATED – People throughout Montgomery County and even out of state are stepping up to help a father and his daughter through the pain of losing the rest of their family in a freak accident that had a jet crashing into their Gaithersburg home.
A waitress at Dogfish Head Aleshouse who admits she barely knows the Gemmell family was so struck by the horror of that Dec. 8 accident that she started a GoFundMe account to help raise funds for Ken Gemmell and his daughter Arabelle. They lost Marie Gemmell, 36 and her two children, Cole (3) and Devin (7 weeks) who were were found huddled together in a second floor bathroom of their home that was completely destroyed by the jet. The three died of smoke inhalation, according to a report for the Office of the Medical Examiner. The jet was traveling from Chapel Hill, N.C. to the Montgomery County Airpark when it crashed into a neighborhood off Drop Forge Lane damaging two homes and completely destroying the Gemmells' home.
As Jenifer Miller of Silver Spring watched the news reports, she said she realized she recognized the family and had to help them.
"I have waited on them a few times at Dogfishhead Alehouse," she said describing the family as "regulars."
"They are very kind people and not just to the staff but to each other. They are very attentive with their children and they way the look at each other as a couple, they are so cute and kind," Miller told MyMCMedia.
The jet crashed at about 10:15 a.m. on Dec.8 and by 5 p.m. that day Miller had started her GoFundMe account to raise what she hoped would be about $10,000 for the family.
"I am a mother of five and  all I thought was as a human being if I were ever in any kind of situation not even of this magnitude I would hope someone would have it in their heart to do it for me," she said.
The fund now sits at more than $355,000 raised by more than 7,000 donors and continues to grow. According to GoFundMe Public Relations Manager Kelsea  Little the 'Gemmell Family Fundraiser' campaign has been up for two days and has quickly become the GoFundMe site's  9th largest campaign of all time.
Miller said Gemmell called the restaurant Monday evening to talk to her when he found out about the fundraising, and the two briefly spoke since then.
"It was so unexpected (to hear from Gemmell) I could go the rest of this life and he not say anything to me and I would understand," Miller said.
Miller said she plans to keep the GoFundMe account operating until Gemmell instructs her to take it down.
In addition to the online fundraiser, Kid'sTown Learning Center at 18815 Waring Station Road, Germantown is also accepting donations for the family. Donations could include size 8 girls' clothing, size 2 girls' shoes, toys and school supplies as well as size large shirts, pants size 36×30; shoes size 10. Gift cards are also being requested. The drop-off location is open from 6:30 a.m. to 6:30 p.m.
A community event in Germantown is also hoping to raise funds for the Gemmell family.
Pop Up Play Zone at 2211 Bel Pre Road; Silver Spring is asking for a $10 donation for the family in exchange for two hours of fun on all the inflatables there. The event is scheduled for Dec. 18 from 5:30 to 7:30 p.m. Food vendors will also be on-hand donating proceeds to the family.
"We saw the story and I feel like he has a similar to mine before this happened – he is from New Jersey, he  has an 8 year old and he lives in Gaithersburg," said Andy Ross owner of Pop Up Play Zone along with partner Eric Knaus of The Great Zucchini.