Costco's Plan for Wheaton Gas Station Gets Thumbs Down by County Hearing Examiner
Costco should not be given a special exception to construct a 16-pump gas station on its property in Wheaton, according to  a hearing examiner with the Montgomery County Board of Appeals.
The report by Martin L. Grossman, hearing examiner and director for the Office of Zoning and Administrative Hearings, was released late last week.
According to the report, " based on the testimony and evidence of record, I conclude that Petitioner has not met its burden of proving, by a preponderance of the evidence, that the automobile filling station use it proposes would meet all of the specific and general requirements for the special exception. While Petitioner made many of the required showings, it has not made all of the required showings, and therefore the Petition should be denied."
Costco was appealing a ruling made on February 28, 2013 by the Montgomery County Planning Board. That board voted 3-2 to recommend denial of the request to build the station at 11160 Veirs Mill Road based on its conclusion that the petition was not sufficiently consistent with the 2012 Wheaton CBD and Vicinity Sector Plan. Those opposed to the proposal had argued the pumping station would cause negative traffic and health impacts to the surrounding neighborhood.
Patricia Harris, attorney for Costco, declined to comment to MyMCMedia on the recent ruling.
No date has been set for the Board of Appeals worksession on the case.
Related: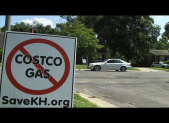 After reviewing an analysis from their planning staff and hearing testimony from the applicant and scores of residents, the Montgomery County Planning Board recommended denial of a proposed special exception to allow a 16-pump Costco gas station at the Westfield Wheaton Mall on Feb. 28. The Board will forward its recommendations to the Hearing Examiner […]