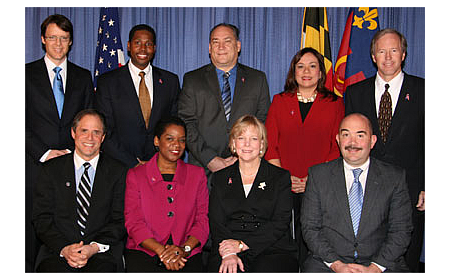 Council Committees Discuss Wheaton Redevelopment
The Montgomery County Council's Government Operations and Fiscal Planning (GO) Committee and its Planning, Housing and Economic Development (PHED) Committee will meet jointly at 9 a.m. on Friday, April 12, to discuss proposed amendments to redevelopment plans for downtown Wheaton. The worksession will focus on a proposal to change the location of the future headquarters of the Maryland-National Capital Park and Planning Commission (M-NCPPC) headquarters.
The review of the Wheaton redevelopment plan is part of the Council's examination of amendments to the recommended Capital Improvements Program (CIP) budget of County Executive Isiah Leggett. In April and May, the Council will review the Executive's recommended operating budget and amendments to the six-year CIP as it works toward adopting the FY14 County operating budget in late May. The new operating budget will go into effect on July 1.
The GO Committee, which is chaired by Nancy Navarro and includes Councilmembers Valerie Ervin and Hans Riemer, and the PHED Committee, which is chaired by Nancy Floreen and includes Councilmembers Marc Elrich and George Leventhal, will meet in the Seventh Floor Hearing Room of the Council Office Building at 100 Maryland Ave. in Rockville. The meeting will be televised live by County Cable Montgomery (CCM—Cable Channel 6 on Comcast and RCN, Channel 30 on Verizon). The broadcast also will be streamed through the County Web site at www.montgomerycountymd.gov.
The Wheaton Redevelopment Program is a $73 million project in the County's CIP. The program includes plans to relocate M-NCPPC headquarters from Silver Spring to downtown Wheaton; a town square; and facility planning for a multi-agency facility to possibly include County offices. It was originally proposed that those County offices could include the Department of Environmental Protection and the Department of Permitting Services, but in a March 27 memo, County Executive Leggett stated he does not intend to move those departments to the redeveloped downtown Wheaton, citing cost implications.
The worksession Friday will look at whether the planned office building should be an M-NCPPC building with limited space for County users or should the office building be a multi-agency building to include M-NCPPC and the departments of Environmental Protection and Permitting Services.
The proposed amendment would have the project include the M-NCPPC headquarters, the Wheaton Regional Services Center and Urban District offices.
The worksession also will look at whether the office building should be on a site known as Parking Lot 13 or moved across Reedie Drive. Parking Lot 13 is the larger site, but County Executive Leggett now believes that Parking Lot 13 should be reserved for private investment.