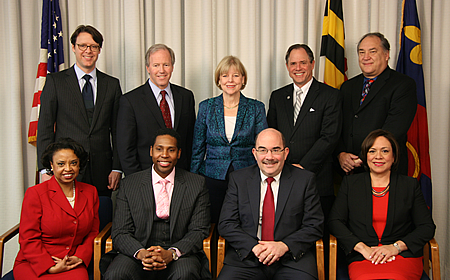 Council Committees Meet on April 21
The Montgomery County Council's Transportation, Infrastructure, Energy and Environment (T and E) Committee at 9 a.m. on Monday, April 21, will hold a worksession on a variety of transportation issues with representatives of the Washington Metropolitan Area Transportation Authority (WMATA—or Metro). The worksession is part of the committee's review of budget requests concerning County Executive Isiah Leggett's Fiscal Year 2015 recommended operating budget.
The T and E Committee, which is chaired by Roger Berliner and includes Councilmembers Nancy Floreen and Hans Riemer, will meet in the Seventh Floor Hearing Room of the Council Office Building at 100 Maryland Ave. in Rockville. The meeting will be televised live by County Cable Montgomery (CCM—Cable Channel 6 on Comcast and RCN, Channel 30 on Verizon). The broadcast also will be streamed through the County Web site at: www.montgomerycountymd.gov/council/ondemand/index.html.
Every year at this time, the T and E Committee invites the WMATA board members from Montgomery County to brief it on WMATA's budget for the upcoming year. The worksession also provides an opportunity to discuss ongoing issues with Metrorail, Metrobus and MetroAccess. WMAMTA Board member Michael Goldman (appointed by the Governor), board alternate Kathryn Porter (appointed by the County Executive and confirmed by the Council) and Charlie Scott (WMATA's liaison for Maryland affairs) are expected to attend.
During its meeting, the committee also will be updated by the Executive branch on the costs of snow removal during the extended winter.
At 9 a.m. in the Third Floor Conference Room, the Health and Human Services Committee, which is chaired by George Leventhal and includes Councilmembers Nancy Navarro and Craig Rice, will review the FY15 operating budget request of the Department of Libraries. For FY15, the County Executive has recommended an increase in the libraries budget of $2.3 million (6.7 percent) from the FY14 approved budget. The recommended budget reflects a net increase of 11 full-time and 11 part-time positions.
At 1:30 p.m. in the Seventh Floor Hearing Room, the Planning, Housing and Economic Development Committee, which is chaired by Councilmember Floreen and includes Councilmembers Leventhal and Marc Elrich, will address the budget request of the Maryland-National Capital Park and Planning Commission's Division of Parks.
At 1:30 p.m. in the Third Floor Conference Room, the Government Operations and Fiscal Policy Committee, which is chaired by Councilmember Navarro and includes Councilmembers Riemer and Cherri Branson, will review the budget requests of the offices of the County Attorney, Human Resources and the Inspector General. The committee also will discuss funding for the Working Families Income Supplement.