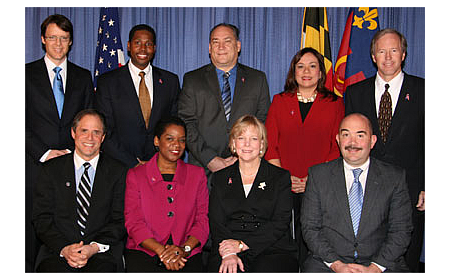 Council Committees Meet on April 24
The Montgomery County Council's Education and Health and Human Services (HHS) committees will meet on April 24 at 9:30 a.m. on April 24 for a joint worksession on programs for young children, school wellness centers, the Kennedy Cluster Project and Public/Private Partnerships for special needs students. The reviews are part of the Council's examination of the recommended Fiscal Year 2014 operating budget presented by County Executive Isiah Leggett.
In April and May, the Council will review the Executive's recommended budget as it works toward adopting the FY14 County operating budget in late May. The budget will go into effect on July 1.
The Education Committee, which is chaired by Valerie Ervin and includes Councilmembers Phil Andrews and Craig Rice, and the HHS Committee, which is chaired by George Leventhal and includes Councilmember Rice and Nancy Navarro, will meet in the Seventh Floor Hearing Room of the Council Office Building at 100 Maryland Ave. in Rockville. The meeting will be televised live by County Cable Montgomery (CCM—Cable Channel 6 on Comcast and RCN, Channel 30 on Verizon). The broadcast also will be streamed through the County Web site at www.montgomerycountymd.gov.
Federal budget issues are projected to impact local early childhood programs. The Board of Education's recommended FY14 budget includes $4.84 million for the Montgomery County Public Schools Head Start programs. In FY14, MCPS is projected to serve 608 children in full and traditional part-day programs, 20 slots less than the FY13 service level. The reduction in slots (one classroom) is projected to impact the MCPS part-day program and results from anticipated decrease of $177,000 due to federal sequestration.
MCPS has stated it intends to reduce a head start classroom at Fairland Elementary School, but has authorized the opening of a replacement pre-kindergarten class at the school. The site was selected to take the reduction because it is not a Title I school; it has an existing pre-kindergarten program. Other near-by sites with pre-kindergarten classes could accommodate additional students if needed.
In order to accommodate a projected net increase of 30 children on the Working Parents Assistance (WPA) waitlist during FY13, the Department of Health and Human Services estimates that an additional $277,800 would be needed in FY13 funding, and an increase of $338,670 would be needed to accommodate this level of service in FYI4. Councilmember Ervin is recommending increasing funding in FY14 by $338,670 in two increments of $200,000 and $138,670 to address the WPA waitlist.
The Executive recommended $4.95 million for the Linkages to Learning program in FY14, an increase of $166,256 from the FY13 approved budget. The Executive's recommended budget funds the continuation of Linkages at its current sites. During FY13, the program was located at 26 schools listed. The Executive proposed adding a site at Georgian Forest Elementary School. The Council believes that if a site, or sites, are added, the top two priorities should be Arcola and South Lakes elementary schools, with Georgian Forest the third highest-rated priority.
At 9:30 a.m. in the Third Floor Council Room, the Transportation, Infrastructure, Energy and Environment Committee, which is chaired by Nancy Floreen and includes Councilmembers Nancy Floreen and Hans Riemer, will hold a worksession on the FY14 budget request of the Facilities and Fleet Management divisions of the Department of General Services.