Council Committees Meet on Feb. 3: Purple Line & More on Agenda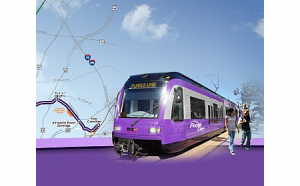 The Montgomery County Council's Planning, Housing and Economic Development (PHED) Committee will meet at 2 p.m. on Monday, Feb. 3 to continue its series of worksessions on issues relating to the proposed Bethesda station of the planned Purple Line. Monday's worksession will focus on zoning, staging and open space and park issues.
The PHED Committee, which is chaired by Nancy Floreen and includes Councilmembers Marc Elrich and George Leventhal, will meet in the Seventh Floor Hearing Room of the Council Office Building at 100 Maryland Ave. in Rockville. The meeting will be televised live by County Cable Montgomery (CCM—Cable Channel 6 on Comcast and RCN, Channel 30 on Verizon). The broadcast also will be streamed through the County Web site at www.montgomerycountymd.gov/council .
The Purple Line will be a public transit line connecting the Bethesda station with the New Carrollton Metrorail station in Prince George's County.
The purpose of the station plan is to facilitate the construction of a better western terminus for the 14-mile Purple Line and to maintain a tunnel connection beneath Wisconsin Avenue for the Capital Crescent Trail (CCT). This would be done by providing a series of incentives—including higher zoning—to encourage the property owner of the Apex Building at the southwest corner of Wisconsin Avenue and Elm Street to raze the building and to construct a new building over the station and relocated trail.
The plan recommends changing the zoning on the Apex building property to allow an additional 50 feet in height to accommodate the numerous elements of the improved station and trail and is only recommended if the property develops before the Purple Line. Otherwise, the height is limited to 200 feet.
The worksession also will address proposed open space at Woodmont Plaza.
At 9:30 a.m. in the Third Floor Conference Room, the Transportation, Infrastructure, Energy and Environment Committee, which is chaired by Roger Berliner and includes Councilmembers Floreen and Hans Riemer, will hold a worksession on the proposed Fiscal Years 2015-20 Capital Improvements Program for the Washington Suburban Sanitary Commission (WSSC).
At 2:30 p.m. in the Third Floor Conference Room, the Government Operations and Fiscal Policy Committee, which is chaired by Nancy Navarro and includes Councilmembers Riemer and Cherri Branson, will discuss proposed Spending Affordability Guidelines for the FY15 operating budget.
The committee will discuss staff recommendations that include:
·       Setting the ceiling on property tax revenues at the Charter limit with tax credits.
·       Setting the ceiling on the Aggregate Operating Budget (AOB) at 1.80 percent above the FY14 AOB.
·       Setting an overall limit on community grants of $6.8 million, which would be divided evenly between the Council and the County Executive ($3.4 million each).