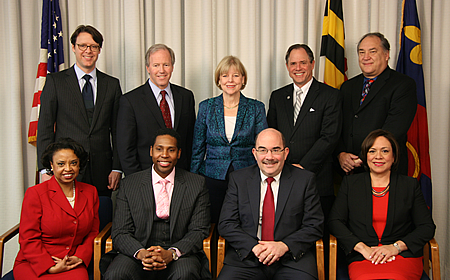 Council to Take Action on Global Warming Measures
The Montgomery County Council during its morning session on Tuesday, April 22, is scheduled to take action on nine measures addressing long-term protection of the environment and the use of clean energy. They are part of a package of bills introduced earlier this year by Councilmember Roger Berliner. See Councilmember Berliner Proposes Green Bills (Video) article for more information.
The Council's regular weekly session will begin at 9 a.m. in the Third Floor Hearing Room of the Council Office Building at 100 Maryland Ave. in Rockville. The Council's morning session, six public hearings scheduled to begin at 1:30 p.m. and two committee meetings scheduled to begin at 2 p.m., will be televised live by County Cable Montgomery (CCM—Cable Channel 6 on Comcast and RCN, Channel 30 on Verizon). The broadcast also will be streamed at: www.montgomerycountymd.gov/council/ondemand/index.html .
The Council meeting will be rebroadcast on Friday, April 25, at 9 p.m. and will be available before that time on demand.
Two zoning text amendments are among the nine measures that Councilmember Berliner introduced in January. ZTA 14-01 would require parking lots to have charging stations for electric vehicles. ZTA 14-02 would exempt solar panels from height limits and would allow solar panels to extend two feet into side and rear setbacks.
Among the other measures is Bill 4-14, which would require any contract that the County enters into to maintain street lights to be with a company that specializes in LED lights. Many current street lights are outdated and inefficient, and LED lighting is more energy efficient and requires less maintenance.
Bill 9-14 would require that 50 percent of the County's electric power usage be supplied with renewable energy by Fiscal Year 2015 and 100 percent by 2020. Currently, 30 percent of the County's electric power usage is supplied by renewable energy.
During the morning session, Councilmembers Hans Riemer and Nancy Navarro will introduce Bill 21-14 that would require the County Executive to develop a Sidewalk Snow Removal Plan. Although property owners are already required to remove snow and ice from sidewalks that are contiguous to their property within 24 hours after precipitation ends, recent snow storms have left County sidewalks covered with snow and ice for many days after a winter weather event.
The bill would require the Executive to develop a sidewalk snow removal plan that includes a digital map of the County that shows who is responsible for clearing snow and ice on each sidewalk; a "major storm event" communications plan that addresses notice to residents of a major storm event; and a targeted public education campaign about sidewalk snow and ice removal for owners of property.
Also during the morning session, Councilmember George Leventhal will introduce a resolution to urge merchants with pharmacies as part of their business to stop selling cigarettes in Montgomery County retail outlets. Councilmembers Floreen, Reimer, Navarro and Phil Andrews are co-sponsors.
Among the public hearings scheduled to start at 1:30 p.m. is one on a resolution that would reduce the 2010 increase to the County's fuel/energy tax rates by 10 percent (with an estimated revenue loss of $11.5 million). Councilmember Berliner is the chief sponsor of the bill and Councilmember Andrews is a co-sponsor.
At 2 p.m. in the Seventh Floor Hearing Room, the Education Committee, which is chaired by Craig Rice and includes Councilmembers Andrews and Cherri Branson, will hold the first of three scheduled worksessions to review the Montgomery County Public Schools Fiscal Year 2015 budget request. The Board of Education requested a total of $2.3 billion for the FY15, an increase of $91.9 million (4.1 percent) over the current FY14 level. The board requested a local contribution of $51.7 million above the State Maintenance of Effort (MOE) level required for FYI5.
In his recommended budget, County Executive Isiah Leggett recommended funding $14.4 million (0.7 percent) less than the board's request. The Executive recommended a County contribution that is $26 million above the MOE requirement.
At 2 p.m. in the Third Floor Conference Room, the Planning, Housing and Economic Development Committee, which is chaired by Councilmember Floreen and includes Councilmembers Leventhal and Marc Elrich, will review the FY15 operating budget requests of the County's Department of Economic Development and the County's Conference and Visitor's Bureau.