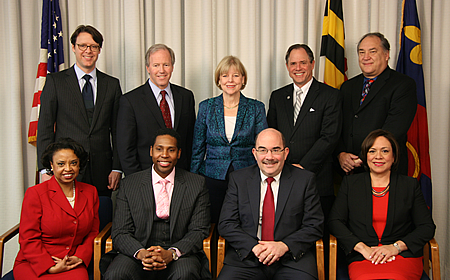 Council Works on FY15 Budget
The Montgomery County Council's Planning, Housing and Economic Development (PHED) Committee at 10:30 a.m. on Friday, April 25, will address Capital Improvements Program adjustments that will impact the revitalization of the Colesville/New Hampshire Avenue commercial area of Silver Spring and the development of the Long Branch area.
Starting at 9:30 a.m. in the Seventh Floor Hearing Room, the PHED Committee, which is chaired by Nancy Floreen and includes Councilmember Marc Elrich and George Leventhal, and the Health and Human Services Committee, which is chaired by Councilmember Leventhal and includes Councilmembers Nancy Navarro and Craig Rice, will meet jointly to discuss several housing issues. Those worksessions are part of the Council's review of County Executive Isiah Leggett's recommended Fiscal Year 2015 operating budget.
After Council committees review various aspects of the Executive's recommended budget, committee recommendations will go to the full Council for consideration. The Council is scheduled to reach a tentative agreement on the budget on May 15 and is scheduled to formally adopt the budget on May 22. The budget will go into effect on July 1.
The joint committees will discuss the Housing First program, which seeks to find permanent housing for individuals and families that find themselves in a series of temporary housing situations.
At 10:15 a.m., the HHS Committee will meet to review the budget request for the Department of Health and Human Services' Special Needs Housing program. For FY15, Special Needs Housing is organized into five program areas. The County Executive has recommended a total of $20 million for those programs, an increase of 2.0 percent from the FY14 original budget.
During its meeting at 10:30 a.m., the PHED Committee also will review the budget requests of the Housing Opportunities Commission and the Department of Housing and Community Affairs.