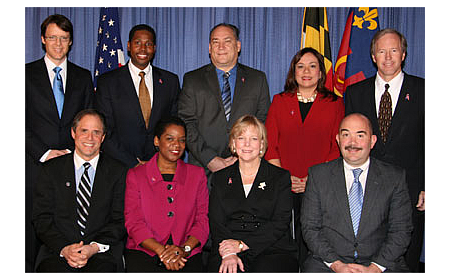 Council's PHED Committee Reviews Zoning Ordinance
The Montgomery County Council's Planning, Housing and Economic Development (PHED) Committee at 9:30 a.m. on Friday, June 21, will continue its extensive review of the first proposed major changes in the County Zoning Ordinance since 1978. At Friday's worksession, the committee will focus on proposed changes for residential and rural zones, including limitations on allowing chickens and goats in residential zones, dates when Christmas trees can be sold outdoors and regulations pertaining to establishing country inns with up to 12 guest rooms.The PHED Committee, which is chaired by Nancy Floreen and includes Councilmembers Marc Elrich and George Leventhal, will be meeting regularly through September to review the changes in the zoning ordinance that have been suggested by the County's Planning Board. The committee will use the worksessions to make recommendations to the full Council, which will eventually decide what changes will be implemented.

The PHED Committee will meet in the Seventh Floor Hearing Room of the Council Office Building at 100 Maryland Ave. in Rockville, will be televised live by County Cable Montgomery (CCM—Cable Channel 6 on Comcast and RCN, Channel 30 on Verizon). The broadcast also will be streamed through the County Web site at www.montgomerycountymd.gov

Detailed information about the zoning rewrite can be found at a new site that is part of the Council home page at:

http://www6.montgomerycountymd.gov/csltmpl.asp?url=/content/Council/Zoning_Rewrite_index.asp

The Council has received considerable correspondence concerning the issue of chickens and goats in residential zones. Currently, there is no limit to the number of animals allowed on a property, but the shelter for the animals is subject to considerable distance setbacks from the property line. The Planning Board has suggested reducing the distance limitation for the shelters and limited the number of animals allowed on a property.

The sale of holiday trees outdoors is now limited in Montgomery County to a period between Dec. 5 and Dec. 25. The Planning Board has proposed eliminating the limitations on the dates of those sales and allowing other seasonal sales such as pumpkins.

Another issue for the worksession will focus on country inns, which now must be in the Country Inn Zone. This is the most restrictive zone in the current zoning ordinance because it only allows one use as the principle use.

Country inns, which are allowed to have up to 12 guest rooms, can only be established with a zoning change that requires Council approval. Under the proposed changes, existing country inns would continue to be allowed. However, establishing a new country inn would require a special exception granted by the Zoning Board of Appeals—a process that is still is complicated, but is less involved than obtaining a zoning change.