Crews Resume Search for Man Swept Away in Potomac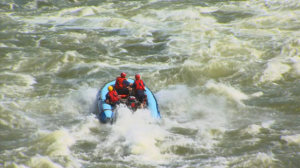 Montgomery County Fire and Rescue Service units and the department's Swift Water Rescue Team were dispatched September 2nd shortly after 8 p.m. for the report of a man swept away while wading in the Potomac River near the Great Falls overlook with friends.
Search teams from Montgomery County Fire and Rescue Service, Fairfax County, the National Park Service and helicopters from U.S. Park Police Eagle 1 conducted an extensive ground, water and air search for the missing man until the search was suspended for the evening.
On Sept. 3, crews returned to the river and resumed search operations for the missing man.
After nearly seven hours, Assistant Chief Scott Graham said crews ended the search and will re-evaluate it tomorrow.
Three people have died in the Potomac River since June 26th.
MCFRS Pot Riv Search Update- after approx 7 hours of operations, search for today has concluded. No victim found. Will reeval tomorrow.

— Scott Graham (@MCFirePIO) September 3, 2013