Dale Music Store to Close Its Doors (Photos)
For more than 60 years, Dale Music Company, Inc. in Silver Spring has been a staple in the community for music lovers, known for its vast collection of sheet music.
In June, owner Carol Warden said Dale Music will close its doors for the last time at 8420 Georgia Avenue, citing a changing economy and the move of sheet music being available to musicians at their fingertips in the online marketplace.
Below is a look at the inside of the historic Dale Music store as the owners close out their final months:
For more information, visit the music store's website.
Related: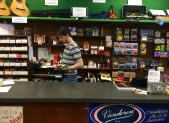 Dale Music in Silver Spring has been a part of the Downtown Silver Spring landscape for more than six decades. But on June 30, the historic business will be closing its doors. MyMCMedia's Valerie Bonk has the story of the impact of the business on the surrounding community. It's the end of an era. Owner […]
For more than 60 years, Dale Music Company, Inc. in Silver Spring has been a staple in the community for music lovers, known for its vast collection of sheet music. In June, owner Carol Warden said Dale Music will close its doors for the last time at 8420 Georgia Avenue, citing a changing economy and […]