Education Committee Discusses MCPS Code of Conduct Policy (VIDEO)
The Montgomery County Council's Education Committee met on July 27 with Montgomery County Public Schools (MCPS) staff to receive a briefing on the new Code of Conduct.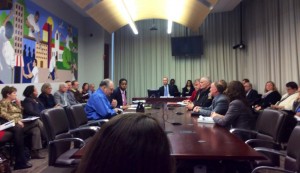 The new policy, which emphasizes in keeping students in the classroom and reduce out-of-school suspensions to narrow the achievement gap, is already showing results.
"We are very happy to hear from MCPS … we saw a significant reduction in some of the racial disparities around school suspensions," said Committee's Chair and Montgomery County Councilmember Craig Rice.
Rice said a lot of African-Americans, Latino, and special education students were "often" disproportionality represented in those that received out of school suspensions.
"With this new code of policy, we've seen those numbers drop as much as 50 percent. And in specific categories we've seen them drop as high as 70 percent. So that's really what we want. We want our kids to be in school. And we also have different kinds of mediation in place," Rice said.
The policy was implemented in the 2014-15 school year to replace the previous student disciplinary policy, sought to reduce out-of-school suspensions.
"So before was very hard and fast. If you did x, y, z, you got an out-of-school suspension for a week," Rice said adding that now- depending on what the student did- there is no longer an automatic out-of-school suspension. School staff will be working with students in school with a counselor. The idea, according to Rice, is to get the child back in classroom as soon as possible.
But Rice added when it comes to more serious cases students can still face disciplinary out-of-school suspension.
"What we want to do is to make sure they do suffer consequences based on serious actions that they've had, but at the same time make sure that we continue their educational progress. Because that's important. We still gonna have to educate that child," Rice said.
You can watch a recap of today's discussion, below: