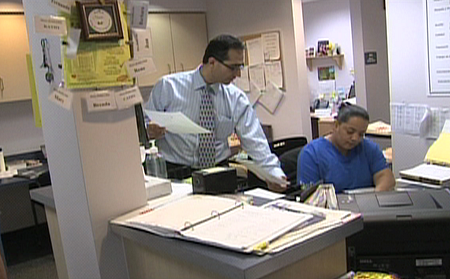 Enrollment Begins for Affordable Care Act (Video)
Beginning October 1, uninsured adults between the ages of 18 and 64 will be able to sign up for health care coverage as the Patient Protection and Affordable Care Act (ACA) goes into effect. Signed into law in March 2010, the law requires legal residents to have health insurance coverage beginning in 2014 or pay a fine.  The new health care law offers individuals and families access to affordable health coverage.
James Mannarino of Interfaith Works joined with County Executive Isiah Leggett and other officials at an Affordable Care Kickoff in Rockville on October 1.



The Maryland Health Connection is the state's new insurance marketplace, and beginning October 1, residents who need health coverage will have three ways to enroll:
Sign up online at www.marylandhealthconnection.gov . See the plans Maryland is offering, enroll and choose the plan that best fits your individual needs.
Call Maryland's Call Center at 1.855.642.8572 (toll free) or 1.855.642.8573 (TTY) and enroll over the phone.
Meet in person with a health navigator to complete enrollment.  For a calendar showing where navigators will be located, go to www.capitalhealthconnection.org and click on the calendar.
When getting ready to sign up, be sure to have these things ready:
Social security numbers (or document numbers for any legal immigrants who need insurance)
Birth dates
Employer and income information for everyone in the family (such as pay stubs or W-2 wage and tax statements)
Policy numbers for any current health insurance
Information about any job-related health insurance available to your family.
Individuals and families may qualify for help paying for health insurance overage, depending on income and family size.
For more information, call 240.773.8250.