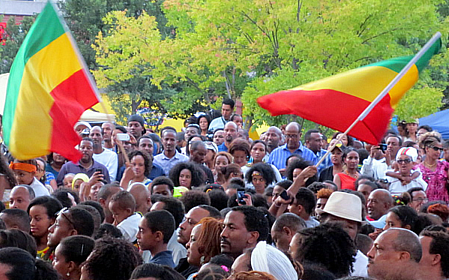 Ethiopian Community Center Opens in Silver Spring (VIDEO)
Ethiopians in Montgomery County have a new place to promote their culture and traditions. The Ethiopian Community Center in Maryland opened in Silver Spring in September and had an open house celebration on Nov. 1.
The community center is at 8120 Fenton Street, suite 201B, in Silver Spring, and will provide information about programs and services available in the county.
"As the size of the Ethiopian-American community increases, the demand for various social and economic supports has also increased," Mekdes Ijigu Asefa, project coordinator at the Ethiopian Community Center in Maryland, wrote in an email to MyMCMedia.
According to the ECCM's website, the mission is to provide accessible community services to all Ethiopians in Maryland with the goal of cultural enrichment and appreciation of Ethiopian culture and history. The place will also serve as a center for safety and emergency response during accidents or urgent needs of community members.
The ECCM is open Monday – Friday from 9 a.m. to 5 p.m. and Saturday from 9 a.m. – 4 p.m.
Asefa added that all Ethiopians in Maryland can get services in the Center whether "they are a member or not."
"ECCM will leverage its resources by forming close partnership with schools, government, agencies, employment and healthcare providers," Asefa wrote.
According to the Montgomery County Community of Partnerships website, Ethiopians make up the largest proportion of African immigrants in Montgomery County. In 2010, more than 58,000 or six percent of Montgomery County's residents were born in Africa.
"To have their presence in Fenton Village is just a wonderful thing. … All of this indicates the growth and welcoming of the area," said Reemberto Rodriguez, director of the Silver Spring Regional Services Center.