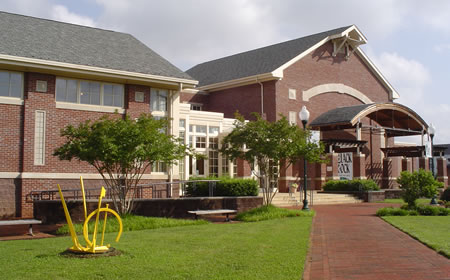 Expanding Arts in Clarksburg
BlackRock Center for the Arts and Clarksburg Premium Outlets at Cabin Branch are exploring a partnership with the goal of providing high quality and accessible arts experiences to the Clarksburg community.
To that end, the two organizations are planning to gather feedback from the community about interests and needs of Clarksburg residents through focus groups and community meetings over the coming months. This initial effort is designed to learn more about the community's interest and support for bringing nationally-recognized music, dance, and theatrical performances and/or education programs to Clarksburg on a regular basis.
The joint effort kicks off with an Open House hosted by Clarksburg Premium Outlets at Cabin Branch on Jan. 23, from 7 – 9 p.m. at the Cedarbrook Community Church, 23700 Stringtown Road in Clarksburg. BlackRock representatives will be on hand providing a crafts activity for kids and surveys for attendees to fill out, describing what types of cultural programming they would like to see BlackRock bring to Clarksburg.
"We are committed to creating a wonderful place for the residents of Clarksburg to eat, shop and gather and we believe that bringing BlackRock programming to Clarksburg in an enhanced cultural environment that we would create could be an excellent fit with the needs and interests of the Clarksburg community," says Ron Kaplan, Co-Managing Principal of Streetscape Partners and a member of the development team behind Clarksburg Premium Outlets at Cabin Branch.
"BlackRock is known for bringing top quality music, theater and dance artists to upper Montgomery County," adds Krista R. Bradley, Executive Director of the BlackRock Center for the Arts. "Our goal is to bring the growing community of Clarksburg high quality artistic performances and education programs that they might find at downtown venues, making it more convenient, accessible, and affordable."
Preliminary options that have been mentioned include devoting a specific area in Clarksburg's town center to regular concerts and other performances, and establishing a new outdoor venue for the performing and visual arts at Clarksburg Premium Outlets at Cabin Branch, the upscale shopping outlet now being planned just west of I-270.
BlackRock Center for the Arts is the leading venue for the performing and visual arts and the cultural cornerstone in Upper Montgomery County. Now in its 12th season and reaching more than 15,000 people per year, BlackRock presents performances featuring top regional, national, and international touring talent from the worlds of pop, jazz, roots, rock, blues, folk, world, and classical music, as well as dance and theatre for young audiences and families.
BlackRock provides the community with the highest level of quality performances, free gallery exhibitions, and arts education classes in a welcoming and intimate setting close to home.
Clarksburg Premium Outlets at Cabin Branch is designed to provide both area residents and visitors with a high quality outlet shopping experience. To be developed by a team that includes New England Development, Streetscape Partners, and Simon Property Group, Clarksburg Premium Outlets will be an inviting, attractive, and pedestrian-friendly shopping and dining attraction featuring top designer labels and leading brands.
"Clarksburg Premium Outlets is being designed to transform a portion of the unused Adventist HealthCare property west of I-270 into an asset that will energize the Clarksburg community, adding more than 1,500 jobs and over $150 million in private investment to the local economy," explains Kaplan.
"Clarksburg Premium Outlets will allow for implementation of a broad vision for Clarksburg that not only incorporates a wide range of business, service, and employment opportunities, but also positions it to serve as an attractive place for employers, a thriving center for culture and the arts, and a key component of the economic engine that is driving Montgomery County and the entire state forward," concludes Bradley.