Fake Fliers Warn of Penalties Supporting Illegal Immigration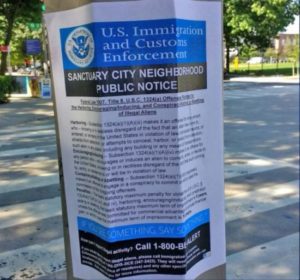 Fake fliers meant to scare the residents are being distributed in and around the District of Columbia warning of penalties for supporting illegal immigration, Takoma Park police said in a statement released Thursday.
These fliers carry the logos of the U.S. Department of Homeland Security and U.S. Immigration and Customs Enforcement. Both agencies deny issuing or sanctioning such fliers, the police statement said.
"It is not clear at this time who is posting them," the statement read.
Police say that if a person finds such a flier, the person should take it down and contact the police department at 301.270.1100.
The police statement ends: "We respect all City of Takoma Park residents no matter their immigration status – Takoma Park remains a sanctuary city."
@TakomaParkPD Message from the Acting Police Chief Regarding Fake ICE Flyers pic.twitter.com/cJ5VWgqjHK

— Takoma Park Police (@TakomaParkPD) June 1, 2017