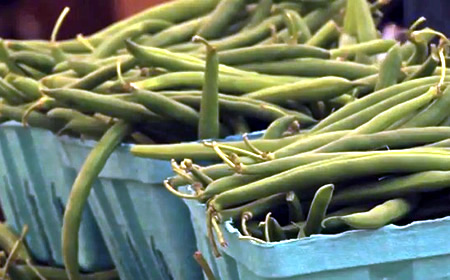 Farmers' Markets Open for Business (Video)
From now through the end of October, Montgomery County's farmers' markets will offer customers fresh, healthful produce and artisanal products at 25 different locations across the County.
"Montgomery County's farmers' markets are a great way for residents to contribute to the local economy, protect the environment and support a secure food system," said Steve Silverman, the County's economic development director. "We're one of the few counties in the country that house the agricultural division within our Department of Economic Development. We do so because we understand and value the direct contribution our agricultural industry makes to our local economy and to our quality of life."
The markets offer traditional items like fruits, heirloom tomatoes, cut flowers and preserves. Adventurous shoppers will also find unique items including free-range meat, micro-greens, layer cakes and even a fish truck that sells Mahi-tacos.
Chocolate and Tomatoes, a Poolesville farm, plans to sell epazote — a Mexican herb, indigo rose tomatoes and the shoots of hops "which taste like asparagus and are very trendy right now," said owner Mark Mills.
"Having a farmers' market in the Olney community has changed my life in so many ways, from eating healthier and cooking healthier to enjoying more quality time with my family," said Janet Terry, founder of the Olney farmers' market.
To ensure access to healthful products, many Montgomery County farmers' market vendors accept SNAP, WIC and senior farmers market nutrition program benefits.
"We're proud of our vendors who make equal-access to food a priority," said Jeremy Criss, manager of Agricultural Services for the County. "Little kids, seniors and people with limited incomes can really benefit from the produce at our markets."
To locate a nearby County farmers' market or see which nutrition programs they accept, view the map below or visit: http://www.choosemontgomerymd.com/programs-incentives/agricultural-preservation/farmers-markets/.

View Montgomery County 2014 Farmers Markets in a larger map