Firefighters Battle House Fire on Damascus Road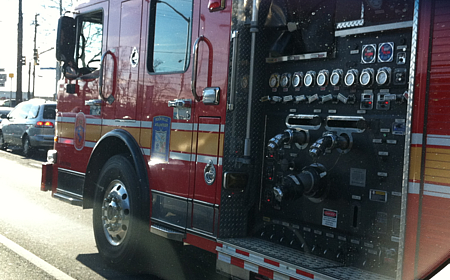 It took over 75 firefighters to get a house fire under control in Damascus on Thursday morning.
It happened at 8130 Damascus Road.
On his Twitter account, Fire and Rescue Services Spokesperson Pete Piringer described the scene as a "firefight" and he said the roof partially collapsed.
According to Piringer, this is a non-hydrant area.
There is significant fire damage to the structure. So far, there is no report of any injuries.
Firefighters said the occupants, three adults and two children, will be displaced because of the fire damage.
Update – Damascus house fire under control, still a few hot spots, significant damage, 3 adults & 2 children will be displaced, no injuries

— MontgomeryCo(MD)Fire (@mcfrs) October 22, 2015
U/D Damascus Rd heavy fire involves single-family house fire, partial roof collapse, all occupants & FFs accounted for, no injuries reported

— Pete Piringer (@mcfrsPIO) October 22, 2015
More….Damascus Rd, house fire, equivalent 2-Alarm, >75 FFs on scene, firefighters engaged in fire fight
— Pete Piringer (@mcfrsPIO) October 22, 2015
Traffic Advisory – 8100blk Damascus Rd, large MCFRS & mutual aid response to house fire, Damascus Rd congested basically btwn Rt124 & Rt94

— Pete Piringer (@mcfrsPIO) October 22, 2015
Update – Damascus Rd, 1-sty single-family house, heavy fire conditions throughout structure, all occupants are accounted, FFs w/ firefight

— Pete Piringer (@mcfrsPIO) October 22, 2015