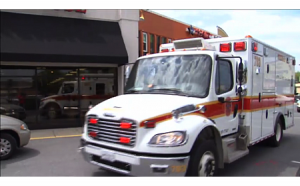 Flu Epidemic Puts Montgomery County Emergency Rooms on Alert
UPDATED Jan. 9  The flu epidemic sweeping about half of the nation is also having a big impact on emergency rooms at area hospitals in Montgomery County and in local classrooms.
For a couple of weeks, Montgomery County Fire and Rescue Services Spokesperson Pete Piringer has reported on his Twitter account that hospitals were busy treating a high number of patients, including many walk-ins.
At Holy Cross Hospital, Media Relations Director Yolanda Gaskins said cases of the flu are on the rise.
"We have definitely had an increase in admissions of patients with flu," said Gaskins. "We have also put up our signage at entry points to ask anyone with symptoms of flu not to visit now. We will likely decide in the coming days whether or not to restrict anyone under 12 from visiting the hospital to help keep patients safe and restrict the spread of flu."
According to a note posted on the Holy Cross website on Jan. 5, visitor restrictions are also in place this week at the hospital.
On Jan. 8, Shady Grove Adventist Healthcare also published a note about its visitor policy during flu season. You can read it here.
Dana Tofig, public information director for Montgomery County Public Schools (MCPS), said even before the winter break, "we were seeing higher than normal absenteeism at many of our schools due to illness."
At this time of year, Tofig said, "we expect to see the number of students and staff who miss school due to illness rise. We encourage frequent hand-washing, and regularly clean and disinfect commonly touched services such as door knobs, stairway rails, and water fountains."
He said the most effective way to keep illness from spreading in schools is for "those who are sick to stay home and remain home until they are better."
For information about protecting yourself from the flu, visit here.
Notice: MoCo hospitals remain on 'BLUE ALERT' basically meaning #mcfrs EMS units transport patients to CLOSEST appropriate Hospital

— Pete Piringer (@mcfrsPIO) January 6, 2015
MoCo Hospitals on 'Blue Alert' meaning ER services are taxed (busy) due to extraordinary circumstances (Flu), incl many walk-in patients

— Pete Piringer (@mcfrsPIO) December 31, 2014
#Flu activity continues to increase in the U.S. and is high in about half of the country. More in http://t.co/dX279rigYg

— CDC Flu (@CDCFlu) December 29, 2014