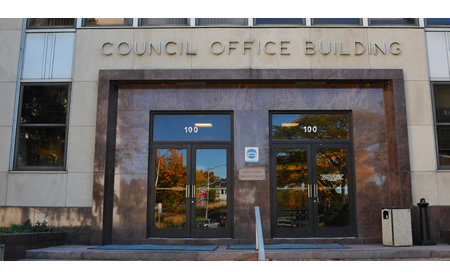 Former County Councilmember Esther Gelman Dies, Funeral Services Set for Friday
Esther Gelman, who served as member of the Montgomery County Council for three terms from 1974-87, passed away on June 6, after a long illness. She would have been 85 on her birthday next week on June 14.
Gelman served as president of the Council in 1984. She was the fourth woman to serve as Council president. A member of various Council committees, she sponsored legislation in such areas as comparable pay, religious leave accommodations, smoking prohibitions and the establishment of the Community Crisis Center for abused women.
Throughout her long political career Gelman was an active advocate for the rights of victims of sexual assault and spousal abuse and helped improve human services available to residents of Montgomery County.
She was born in Baltimore on June 14, 1931, and graduated cum laude from the University of Colorado in 1952 with a B.A. in English, History and Philosophy.
In 1951, she married Norman Gelman. They had two daughters, Judy and Sharon.
Her funeral will be held at 11:30 a.m. on Friday, June 10, at Adat Shalom at 7727 Persimmon Tree Lane in Bethesda. In lieu of flowers, her family has asked that contributions be made to an organization she helped to create—the Montgomery County Public Schools Foundation, which provides higher education scholarships for financially needy students.
Gelman began her political career in 1960 through involvement with the local Democratic party and various civic and neighborhood organizations. As correspondent for the Maryland-National Capital Park and Planning Commission (M-NCPPC) from 1968 to 1970, she reported on the activities of the Commission and of the Montgomery County Planning Board. She served as a commissioner of the M-NCPPC from 1970 to 1974.
She was active in the Maryland Association of Counties (MACo), the Metropolitan- Washington Council of Governments (COG) and the National Association of Counties (NACo). She was president of MACo in 1984.
In its edition of Jan. 3, 1984, The Washington Post listed "Winners and Losers in the State of Maryland" in 1983. Gelman had just been elected president of the County Council and was listed as one of the 10 "winners." Others on the list of winners included Abe Pollin, owner of the Washington Capitals and Bullets, and the Baltimore Orioles, who won the World Series in 1983.
She earned many honors and awards throughout her career including the 1984 American ORT Federation's Golda Meir Award for Distinguished Education and Humanitarian Service, the Montgomery County Government Spousal Abuse Award and the President's Award from the Bethesda-Chevy Chase Chamber of Commerce, the Montgomery County Health Services Planning Board, the U.S. Consumer Product Safety Commission and the Hebrew Academy of Greater Washington.
Following her election to the Montgomery County Council in 1974, Gelman began campaigning for legislation to restrict smoking in public, which resulted in Bill 26-76 "Smoking in Public Places" and in her 1985 co-sponsoring of Bill 27-85 "Smoking in County Government Workplaces and Rail Transit Stations."
In 1982, Gelman voiced her concern with the issue of comparable worth by introducing Bill 55-82, "Comparable Worth-Equal Pay for Work of Equal Worth." She continued her advocacy of women's issues in 1984 by sponsoring legislation designed to improve day care facilities and payment methods for County employees.
We are so sorry to hear of the death of Esther Gelman, first female president of the #MoCo County Council. Our condolences to her family.

— MCCF (@MCCivicFed) June 7, 2016
RIP Esther Gelman – You were a dear friend and We will miss you!! https://t.co/bP2IlwGx1h via @MDScramble

— Rebecca Smondrowski (@RebeccaOnBoard) June 6, 2016