July 4th Fireworks Displays and Safety Tips
Montgomery County is again hosting the Germantown Glory and Mid-County Sparkles fireworks displays Saturday evening. Both will feature live music prior to the fireworks.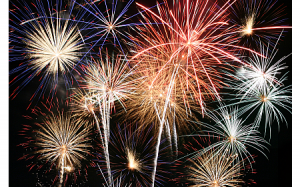 Germantown Glory is located at the Maryland Soccerplex in Boyds. The celebration kicks off at 7 p.m. with a concert by the Tina Turner Revue featuring Suzette Dorsey. Fireworks begin at 9:15 p.m.
The Soccerplex is located at 18041 Central Park Circle in Boyds.
Mid-County Sparkles is located at Albert Einstein High School in Kensington. The celebration begins at 7:30 p.m. with a concert by Gringo Jingo performing the best of Santana. Parking is available at Westfield Wheaton with shuttle bus service beginning at 6:15 p.m. The shuttle will have two stops – Westfield Wheaton Metro Parking Garage adjacent to the JC Penney Department Store and the north building parking lot adjacent to Macy's Department Store. Fireworks begin at 9:15 p.m.
Gaithersburg
The City of Gaithersburg celebration is located at the county fairgrounds, 16 Chestnut Street. Enjoy live music by Rollex, family activities, great food and the fireworks display. Bring a picnic and blankets or purchase food at the celebration. For safety reasons, alcoholic beverages, glass containers, rollerblades, skates, bikes, pets, and fireworks of any kind are strictly prohibited.
Poolesville
The Town of Poolesville is hosting their traditional 4th of July Family Fireworks at the soccer fields at Hughes and Sugarland Roads. The celebration begins at 5 p.m. and features live music by the Bobby Lewis Band. Fireworks are scheduled for 9 p.m. Parking is $5 per vehicle.
Rockville
Rockville's 4th of July Celebration is moving to the Mattie J.T. Stepanek Park in the King Farm neighborhood. The entertainment and fireworks can be viewed from the park grounds. Guests are encouraged to bring blankets, lawn chairs, and food and beverage. Live music by the Nighthawks, Fugitive Brass Quintet and the Rockville Concert Band starts at 7 p.m. Fireworks are scheduled for 9:15 p.m.
Free parking is available in lots along Shady Grove Road, Gaither Road and Choke Cherry Road. The lots are conveniently located within a short walk of the park. There is no parking available in the King Farm neighborhood.
Takoma Park
Takoma Park's 126th Independence Day Celebration includes live music and a fireworks display at Takoma Park Middle School. Enjoy live music by Polyphony Marimba Ensemble at 7 p.m. followed by the fireworks display at 9:30 p.m.
Montgomery County government also has provided some helpful information on their Summer of Safety Fourth of July webpage. Fire and Rescue Services reminds residents that all fireworks are illegal in the county.