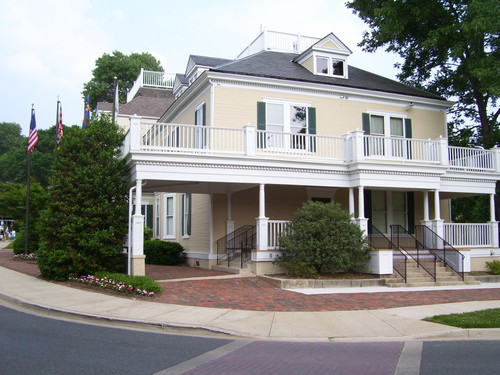 Gaithersburg Appoints Assistant City Manager
Gaithersburg City Manager Tony Tomasello has announced the appointment of Dennis Enslinger as Gaithersburg's assistant city manager.  The position has been vacant since Tomasello's appointment from deputy city manager to city manager in November of 2012.
"We received many qualified applicants for this position.  After several interviews that involved many of the city's senior staff leaders, Dennis rose to the top," said Tomasello.  "We were impressed with his breadth of experience in dealing with many aspects of municipal governance, from website replacement to historic preservation to employee benefits.  The assistant city manager faces an ever-changing landscape of special projects and shifting priorities.  I'm confident that Dennis possesses the leadership, engagement and collaboration skills needed to carry Gaithersburg's initiatives forward."
"The city of Gaithersburg has a strong commitment to enhancing the quality of life through community involvement," said Enslinger.  "I'm extremely excited about being part of this long tradition and working with the community to achieve its future goals."
Since February 2008, Enslinger has served as assistant city administrator in the City of Prairie Village, Kansas, a community with a population of 21,000 and 114 full time municipal employees.  Among his responsibilities were the development and management of the City's $26.5 million budget along with direct operational oversight of the Municipal Court, Building Inspections, Code Enforcement, Community Development, Solid Waste/Recycling, Planning and Zoning, Human Resources, and Information Technology Divisions.
Previous positions have included: Community Development Director of the City of Merriam, Kansas; Senior Planner/Division Manager of the Comprehensive Planning Division for Independence, Missouri; Historic Resources Administrator/Planner II for the City of Lawrence, Kansas; Community Development Coordinator/Historic Preservation Officer for the City of Liberty, Missouri; and an Adjunct Faculty/Lecturer on the subject of Historic Preservation Planning at the University of Kansas, Lawrence, Kansas.  He holds a B.S.B. in Accounting and Business Administration and a Master's of Architecture from the University of Kansas and is certified through the American Institute of Certified Planners.  Enslinger is also a member of the Urban Land Institute, the American Planning Association, the Sustainability Committee of the International City/County Management Association, and several Kansas area planning and preservations associations.
Gaithersburg's Assistant City Manager is appointed by the city manager, working in partnership to lead the organization and implement the goals and vision of the Mayor and City Council.  According to Tomasello, initial projects that Enslinger will be involved with include integration of the City's newly revised Strategic Directions into planning and reporting documents, preliminary budget planning for FY15 and City Hall office renovations. Enslinger is expected to begin in late August, and his starting salary will be $125,000.
For more information please contact the Gaithersburg City Manager's office at 301.258.6310 or visit the City's website at www.gaithersburgmd.gov.