Gaithersburg Aquatic Center to Reopen on July 21 (PHOTOS)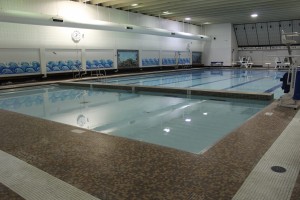 UPDATED The City of Gaithersburg, Montgomery County Public Schools (MCPS) and Montgomery County Parks and Recreation Department (MCRD) have completed interior improvements to the Gaithersburg Aquatic Center swimming pool complex, located at 2 Teachers Way, and the facility will reopen at 5:15 p.m. on July 21.
Facility enhancements include new lockers, new pool plaster and tiles, a new filtration system, installation of an ultraviolet disinfection system, and the addition of two ADA-compliant pool lifts. The renovation also features front counter improvements, new carpet, mural restoration, new lifeguard chairs, new lane lines, and a fresh coat of paint. New picnic tables, umbrellas and replacement brick pavers on the outdoor patio were also added.
The facility, which was built in 1975, and is owned by MCPS and operated by the City of Gaithersburg after school and when school is out of session, has been closed since January of 2012, when cracks that compromised the building's structural integrity were discovered in exterior support columns. Structural repairs were completed in November of 2013 and scheduled enhancements were then undertaken.
The indoor Aquatic Center features six 25-yard lap lanes, two diving boards, an outdoor patio, full-size lockers, and a shallow-water "teach pool." It is open evenings and weekends for lap swimming and recreational swimming. For hours, admission fees, memberships and more visit www.gaithersburgmd.gov or call the Administrative Offices at the Water Park at 301.258.6445. Swim lessons and water fitness classes will resume in September following a grand reopening and ribbon cutting ceremony on September 4 at 4:30 p.m. Visit the City's website at www.gaithersburgmd.gov for aquatics schedules and updates.
Related: