Gaithersburg Students 'Walk for Water' (Photos)
Students at Gathersburg High School hit the street on March 24 to raise awareness and funding for "National Water Day."
The local students joined 80 visiting students from Yokohama Hayato High School in Japan as they walked through Bohrer Park on Summit Hill Farm in Gaithersburg.
"World Water Day" is celebrated each year as an opportunity to raise awareness of global water issues.
The event is designed to display the cultural exchange between the two countries as well as raise money for the Maria Auxiladora School in the Dominican Republic. The school's goal is to raise $2,000.
MyMCMedia's Valerie Bonk joined the students on their walk. See photos of the event below:
Related:

With water jugs in hand students from Gaithersburg High School joined visiting students from Japan in a walk for a good cause in honor of National Water Day. MyMCMedia's Valerie Bonk has the story of the meaning behind the their "walk for water." They didn't know each other before their newest service project, but these […]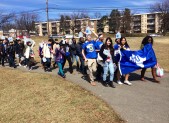 Students at Gathersburg High School hit the street on March 24 to raise awareness and funding for "National Water Day." The local students joined 80 visiting students from Yokohama Hayato High School in Japan as they walked through Bohrer Park on Summit Hill Farm in Gaithersburg. "World Water Day" is celebrated each year as an opportunity to […]