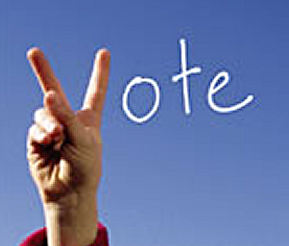 Gaithersburg Election Information
Gaithersburg residents will cast ballots for Mayor and two City Council Members Nov. 5. The Mayor and Council Members each serve the community at-large for a four-year term. The terms of office for Mayor Sidney A. Katz and Council Members Henry F. Marraffa, Jr. and Michael A. Sesma expire in November.
City residents who are registered to vote in Montgomery County are automatically registered to vote in city of Gaithersburg elections. The deadline to register for this election is Monday, Oct. 21. For information contact the Montgomery County Board of Elections at 240.777.VOTE (8683) or visit www.montgomerycountymd.gov.
If you will not be in town on Election Day, or if it is simply more convenient, you have options other than going to the polls on Nov. 5. This year Gaithersburg is hosting two early voting days. Regardless of your precinct, you are invited to cast your ballot at City Hall before Election Day. City Hall is located at 31 South Summit Avenue near the Train Station in Olde Towne Gaithersburg. The two early voting days are Oct 27 from 9 a.m. to 2 p.m. and Nov. 2 from noon to 5 p.m.
Gaithersburg also provides absentee voting. Applications will be available as of Oct. 4 and can be downloaded online, picked up at City Hall, or requested by mail by calling 301.258.6310. Mail or drop the application off at City Hall and, once approved, a ballot will be mailed to you. Note that absentee ballots will not be mailed out after Oct. 30, but can be picked up in person at City Hall. All ballots must be received either by mail or by in-person delivery to City Hall no later than 8 p.m. on Election Day, Nov. 5.
For more information on city of Gaithersburg elections, including instructions for absentee ballots and early voting, contact the Elections Clerk, Lauren Klingler, at 301.258.6310, ext. 2172 or cityelections@gaithersburgmd.gov. Up-to-date election information and campaign finance reporting can also be found online at www.gaithersburgmd.gov/elections.