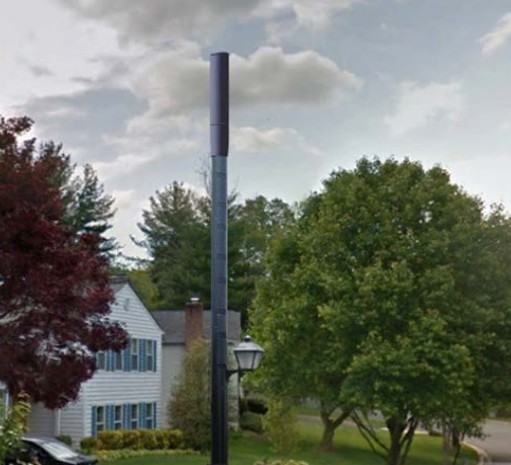 Gaithersburg Leaders to Meet Behind Closed Doors to Discuss Small Cell Facilities (PHOTOS)
UPDATE, April 15, 2:50 p.m.
After receiving numerous complaints in opposition of a proposed plan to install small cell facilities in local communities, the Mayor and City Council of Gaithersburg plan to convene a closed executive session on Monday night to further discuss the issue.
The closed door meeting will take place following the Council's regular meeting, which is scheduled to start at 7:30 p.m. on April 18.
Earlier this week, the city held a work session on the topic at City Hall. That meeting attracted dozens of residents who voiced their opposition to the idea of installation of small cell facilities in their neighborhoods.
ORIGINAL, April 12, 1 a.m.
Residents in Gaithersburg turned out in force for a City Council meeting on Monday night to discuss a proposed plan to build "small" cell facilities.  The towers would be built or added to existing structures along roadsides in residential and commercial areas.
During the meeting, City officials gave a presentation about the proposed towers that would primarily serve as data transmission hubs for wireless carriers. According to City officials, there is no current plan to construct the "small" cell facilities, but the City is in the beginning stage of the exploration process.
Gaithersburg Mayor Jud Ashman says that the City's hands are tied in many ways due to federal regulations administered by the Federal Communications Commission.
"This is going to be a learning process for all of us. As a mayor and as a representative of the City Council, I know we would prefer to have as much local control as possible to do what's best by our residents and by the city. So we're going to engage in this process and see where it takes us," Ashman said.
Under current law, the City would have control over the placement and design of the towers, but federal regulations limit the denial of applications.
Several residents at the meeting stated that they were not made aware of the proposed plans until four days before the public meeting. Residents also voiced opposition to the proposed placement of the towers and expressed concerns about lower property values and health risks associated with exposure to electromagnetic radiation.
Under current guidelines, the Council cannot consider health risks as an option for refusal of an application for cell tower facilities.
Vassilios Magginas is a resident of Gaithersburg and owns a home in the Westleigh neighborhood. Westleigh is one of the possible locations for the small cell towers. Magginas helped organize a petition with 146 signatures in opposition of the cell towers.
"We as a community gathered together quickly to strongly oppose these cell tower structures.. [We] request the relocation of these structures in an appropriate location outside our residential area," Magginas said.
Magginas went on to say that residents in his neighborhood currently enjoy great reception and cell phone service and that there's no need for the additional towers to be built.
Related: