Gaithersburg Water Park Was a Hot Spot for Visitors This Holiday Weekend
The Water Park at Bohrer Park was a hot spot for visitors looking to cool off on Memorial Day.
A total of 1,831 visitors were reported at the pool on Monday compared to 837 on Sunday and 279 on Saturday, according to Parks and Recreation and Culture Director Michele Potter.
In fact, she said the hotter the temperatures got outside the busier the pool became over the long weekend with Monday being the hottest day of the three-day holiday weekend.
According to Potter, weekend attendance figures were up at the Water Park compared to last year (2014) and the year before (2013).
The three-day 2015 attendance total at the pool was 2,947 visitors compared to 2,795 in 2014 and 693 in 2013. The 2012 record holiday weekend of 4,660 visitors still stands.
"The Gaithersburg Water Park opened this past weekend to successful attendance numbers, renovations to the bathhouse, and trained staff ready to serve our customers," Potter said. "The City looks forward to hosting another safe and fun filled summer at the pool! We also welcome patrons to attend this Friday's Water Safety Day with lifeguard demonstrations, U.S. Coast Guard representatives and free swimming from 3:30 to 6:30 p.m."
You can peruse the city's Memorial Day weekend pool attendance figures from 2006-2015 at the city's Water Park, below:
Three-Day Total*
2006 2,009
2007 2,662
2008 1,534
2009 1,816
2010 2,997
2011 3,874
2012 4,660
2013 693
2014 2,795
2015 2,947
*Pool attendance figures provided by the city of Gaithersburg.
As the temperatures heat up outside, so do the popularity of area pools. Montgomery County opened seven outdoor pools over the Memorial Day weekend for the start of the summer swim season and for a short time some of them had to be closed on Monday because they reached peak capacity. "It was a great […]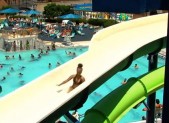 The Water Park at Bohrer Park was a hot spot for visitors looking to cool off on Memorial Day. A total of 1,831 visitors were reported at the pool on Monday compared to 837 on Sunday and 279 on Saturday, according to Parks and Recreation and Culture Director Michele Potter. In fact, she said the […]