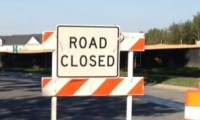 Gaithersburg's East Deer Park (Humpback) Bridge Closure
The East Deer Park Bridge, also known as the Humpback Bridge, which spans the CSX railroad tracks between the city of Gaithersburg and the Town of Washington Grove, will be closed to traffic for several weeks, beginning at approximately noon on Monday, June 23. Construction is currently expected to be completed by Sunday, August 24.
East Deer Park Drive will be closed between Central Avenue and Railroad Street. The detour route takes motorists down Central Avenue to Oakmont Avenue and then to Railroad Street. Detour signs installed along the route will guide motorists around the construction area.
Through this project the East Deer Park Bridge will be structurally modified to meet current standards. Construction will be undertaken by CSX contractor Clark Civil. Train service will not be disrupted.