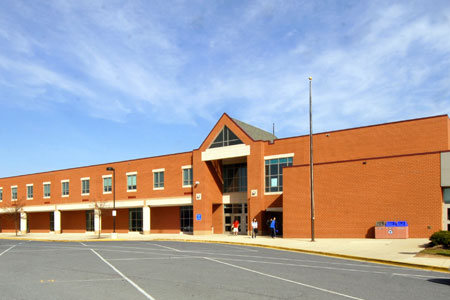 Germantown's Northwest Named Green Ribbon School
Northwest High School in Germantown has been selected as a recipient of the 2015 U.S. Green Ribbon Schools Award, one of just 58 schools in the nation to win the award this year.
The Green Ribbon Schools Award program, established in 2011, is sponsored by the U.S. Department of Education (USDE) and recognizes schools that save energy, reduce costs, feature environmentally sustainable learning spaces, protect health, foster wellness, and offer environmental education to boost academic achievement and community engagement, according to a news release from Montgomery County Public Schools.
"Montgomery County Public Schools has made a strong commitment to environmental sustainability at the district and building levels. We are teaching our students the value of protecting our natural resources and being good stewards of the environment," said Larry A. Bowers, interim superintendent of schools in the news release. "Congratulations to the staff and students of Northwest High School on being a part of this effort and receiving the National Green Ribbon award."
Northwest High School has an active School Energy and Recycling Team (SERT) program that works to reduce the school's energy consumption and increase recycling. Staff provide an integrated approach to learning by including environmental issues within the curriculum across all grade levels and core subjects. Students organize green activities in the school and the community throughout the year.
"The consistent work our Green Team does each and every day has led our students to live a "green" lifestyle which not only benefits our school, but also our community at large," said E. Lancelloti (Lance) Dempsey, principal of Northwest High School in the news release. "This is truly an honor for our school and our community and I couldn't be more proud."
The 58 U.S. Green Ribbon Schools were selected from a pool of nominees submitted by 30 state education agencies, according to the release.
Four other Montgomery County Public Schools (MCPS) have received the national Green Ribbon Schools Award since its inception in 2012: Travilah Elementary School in 2014, Cedar Grove and Summit Hall elementary schools in 2013, and Francis Scott Key Middle School in 2012. MCPS also was selected as the recipient of the District Sustainability Award in 2013, which recognizes school systems that demonstrate a comprehensive approach to sustainability.
Representatives from the winning schools will participate in a national awards ceremony on June 3. The Maryland recipients will also be recognized during the Maryland Green Schools Youth Summit sponsored by the Maryland Association for Environmental and Outdoor Education on May 29at Sandy State Park in Anne Arundel County.