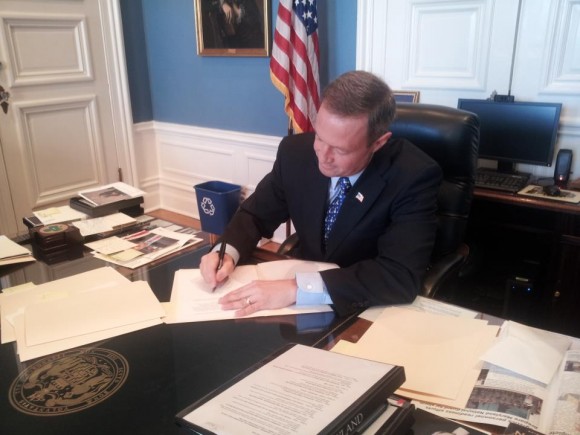 Governor O'Malley Appoints New Transportation Secretary
Maryland Governor Martin O'Malley announced the appointment of James T. "Jim" Smith, Jr. as Secretary of the Maryland Department of Transportation (MDOT) on May 29 at the site of a new $90 million project to widen I-695 (Baltimore Beltway) from US 40 to Frederick Road (MD 144) in Baltimore County – part of a vision for the future of a 21st century transportation network in Maryland and an investment to create jobs, improve safety and alleviate traffic congestion in the area. The Governor also named Robert L. Smith as the new Administrator for the Maryland Transit Administration (MTA).
"If we want better results, we have to make better choices. This session, we came together for the future of Maryland's transportation network to create more than 57,000 jobs for our hardworking families and rebuild our State's infrastructure," said Governor O'Malley."Today, as we look upon the future site of a project that will create nearly 1,200 jobs, improve safety and ease traffic congestion, I am pleased to announce Jim Smith as our next Transportation Secretary – a committed and effective partner of Maryland's communities. As an outstanding former county executive, he understands the connections between transportation and jobs, and I am confident that his leadership will help us build the 21st Century transportation network that will spur economic development and turn our investments into real projects that make a real difference for all Marylanders."
The site of the announcement, along I-695 at the Frederick Road Interchange, is a project to replace the Frederick Road Bridge over the beltway. Originally constructed in 1957, the Frederick Road Bridge has reached the end of its useful life and required replacement. Work to replace the Frederick Road Bridge over I-695 began in 2011 and is scheduled to be complete in fall 2013/early 2014. The $16 million new bridge also is being built to accommodate the future widening of I-695 under the bridge.
The new $90 million investment that supports 1,170 new jobs, will widen a one-mile section of the outer loop of I-695 from US 40 to Frederick Road. The project will add a fourth lane along this beltway section to join with the existing four-lane section beginning at Frederick Road. Work will enhance safety and reduce traffic congestion for a section of the Beltway that carries nearly 200,000 vehicles per day. Design work on this widening project is 65 percent complete, with construction scheduled to begin in Spring 2015.
As Maryland Transportation Secretary, Smith will oversee the Transportation Infrastructure Investment Act of 2013's $4.4 billion in new investments over the next six years and manage a 10,000-employee department. MDOT has direct supervision over all aspects of transportation including: the State's highway, transit and rail networks; motor vehicles; Baltimore / Washington International Thurgood Marshall Airport; and the Port of Baltimore. Mr. Smith also will serve as the Chairman of the Maryland Transportation Authority (MDTA), which is responsible for constructing, managing, operating and improving the State's toll facilities, as well as for financing new revenue producing transportation projects. The MDTA's eight toll facilities include the Bay Bridge, the Nice Bridge, the Hatem Bridge, the Key Bridge, the Baltimore Harbor Tunnel, the Fort McHenry Tunnel and the John F. Kennedy Highway (I-95) and the Intercounty Connector. Smith will start as Transportation Secretary on June 10th.
"I am honored to be able to serve with Governor O'Malley as Transportation Secretary during this amazing time in our State's transportation history," said Mr. Smith. "I like serving the public and working on public policy. I am committed to working with elected officials, fellow cabinet secretaries and with all the counties and municipalities across Maryland to turn this State's vision of our future transportation network into a reality that creates good-family supporting jobs and quality of life for all Marylanders."
Improving safety and reducing congestion on the Baltimore Beltway was just one of Baltimore County Executive Smith's transportation priorities. Serving as Baltimore County Executive for eight years, Mr. Smith worked closely with the State of Maryland and the Department of Transportation to deliver important transportation projects from the I-795 / Dolefield Road Interchange to the Owings Mills Transit-Oriented Development project. As county executive, he oversaw a $2.5 billion budget and 8,000 employees. In this role, he drew from his strong fiscal management and business acumen to focus on land use and transportation planning, sustainable community development and public-private partnerships to help move forward a transportation network geared to encourage economic opportunity, create jobs and improve the quality of life for the residents of Baltimore County.
"Governor O'Malley has made an outstanding choice for secretary of the Maryland Department of Transportation," said Baltimore Mayor Stephanie Rawlings-Blake. "As Baltimore County executive, Jim Smith always understood the importance of working with the City as a regional partner to address many issues, including transportation and the role that transportation investments—including the Red Line—play in supporting job creation. Jim Smith is a true statesman and public servant who will do a great job. I look forward to working closely with him."
Montgomery County Executive Isiah Leggett added, "As a fellow County Executive, I know the job Jim Smith did for Baltimore County. He is a great choice to head up the state Department of Transportation."
"I applaud Governor O'Malley's selection of Jim Smith as Transportation Secretary," said Prince George's County Executive Rushern L. Baker, III. "As a former County Executive himself, Jim understands that transportation is a key quality of life issue that is very important to local jurisdictions. I am confident he will be a stalwart advocate for infrastructure improvements that will reduce traffic congestion, improve safety, and promote smart and sustainable public transportation options."
Governor O'Malley also appointed Robert Smith as the new head of the MTA. Effective June 10, Mr. Smith will be taking over from current MTA Administrator Ralign Wells, who has decided to expand his transportation experience by heading to one of the state's premier economic engines – Baltimore/Washington International Thurgood Marshall Airport. On July 1, he will transition to his new position as the Maryland Aviation Administration's Director of Transportation Services, overseeing the shuttle bus systems for the rental car and parking facilities as well as ground transportation services, including taxis, super shuttles and limousines.
Robert Smith is a highly-regarded transit professional with more than 30 years of transit experience from Dallas Area Rapid Transit Suburban Services in Dallas, Texas, to the Chicago Transit Authority. He most recently served as Vice President of Operations for National Express Corporation, one of the premier student transportation providers that offer full-service transportation solutions to school districts throughout North America. Former Maryland Transportation Secretary John D. Porcari named Robert Smith MTA Administrator in July 2002, tasking him with restructuring the agency and implementing additional redundant safety procedures throughout the MTA. From that time until November 2004, he provided strategic vision and leadership for the multi-modal transit agency's network of buses, subway, light rail, commuter rail, mobility services and freight rail.
"I am excited to be joining an administration that is fully committed to public transportation," said Robert Smith. "The Governor has steadily shown that commitment through investments in new hybrid buses for the MTA's local bus service and new diesel locomotives for the MARC Train service. He has led the way on New Starts projects like the Red and Purple Lines. As a lifelong proponent of public transportation, I could not be happier about this new opportunity."
As the new MTA Administrator, he will focus on implementing the new MARC service improvements, including weekend service on the Penn Line and the modernization of MTA's core bus service.