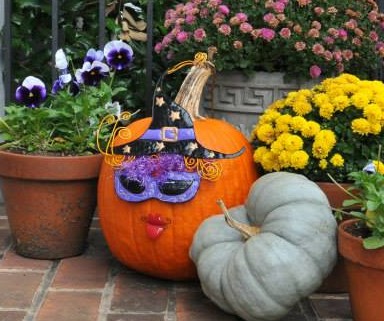 Halloween Photo Contest (Photos)
Decorating the house or carving a pumpkin? How are you getting ready for Halloween?
Send a picture to:  pix@mymcmedia.org.
As you head to the pumpkin patch, tread into the haunted forests, and prepare Halloween costumes, take along your Smartphone or your digital camera and send in a photo to
pix@mymcmedia.org. You may win a prize in our photo contest!

The person who submits the photo receiving the most votes will win a Starbucks gift card ($25).
Get all the details on the Halloween Photo Contest page.
While you are there, check out the various "Channels" where over 3,000 photos of the people and places around Montgomery County have been submitted over the past months to our You Report page.
Rules for the "Halloween Photo-Fest"
Entries must be submitted by noon, November 1, 2013.
The winner will be determined by the number of votes received between noon Oct. 25, and 10 p.m. Nov. 1, 2013.
There is no limit on the number of photos a person can submit.
Submissions must be made by email to pix@mymcmedia.org, one email for each photo.
Only digital photos will be accepted (no prints or scans).
The winner will be notified by email on November 4, at the email address from which the image was submitted.
Winner must be a resident of Montgomery County, MD.
All submissions are subject to MCM's Contributed Content Policy.