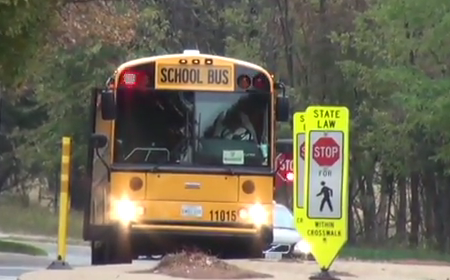 Haz Mat Team Investigates if Students Were Exposed to Mercury (Video)
UPDATED Montgomery County firefighters are investigating an incident involving a student who brought a vial of mercury and opened it on a school bus that was headed to Francis Scott Key Middle School before 9 a.m. today (April 30).
Fire Spokesperson Pete Piringer said there were approximately 25 students on that bus when it arrived at the school and school officials learned of the incident.
Piringer said by the time fire rescue's hazardous materials team was able to check the bus it had picked up ten more students who were headed to Charles Drew Elementary School.
The bus was located and isolated at the White Oak Library and it's been quarantined, Piringer said, after fire rescue's haz mat team detected a small amount of mercury on the bus.
The students on the bus at both schools are being evaluated by EMS out of an abundance of caution, Piringer said.
According to Piringer,  no one is displaying any ill effects or sickness and no student is believed to have come in direct contact with the mercury.
Late today, a note from the school's principal was posted on the Francis Scott Key Middle School website that indicated each student was being evaluated for mercury exposure. Parents were encouraged to bring an extra pair of shoes for their children and all evening activities at the school were canceled.
A MESSAGE FROM PRINCIPAL YOLANDA STANISLAUS:
"An update on the situation at our school: Beginning at 3:00 p.m., parents/guardians can pick up their student from the gym. Students not released by 4:00 p.m., will be directed to ride the school bus home which will depart from Key Middle School at 4:15 p.m.
"Please park either on Schindler Drive or at the West Hillandale Swim Club parking lot. There will be no car access to the school parking lot or campus. Please enter through the side gym doors located directly across from the bus loop. As a precaution, all students will be evaluated for exposure before they leave the school, please bring a pair of shoes for your student. All evening activities are canceled."
U/D Haz mat Crews will be on scene at Key Middle school for a protracted time – Hazmat & EMS personnel screening students for poss exposure

— Pete Piringer (@mcfrsPIO) April 30, 2014
U/D Students on bus earlier evaluated by EMS out of abundance of caution, no exposures detected. Student displayed mercury,no apparent spill

— Pete Piringer (@mcfrsPIO) April 30, 2014
U/D White Oak – poss small Mercury spill/exposure (unconfirmed)- @mcfrs Hazmat on scene at 2 locations Key MS & a bus near White oak library

— Pete Piringer (@mcfrsPIO) April 30, 2014