How Will You Serve on January 20? (Video)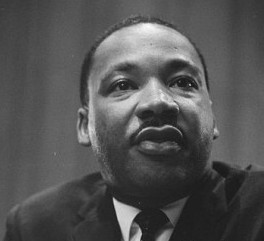 Montgomery County will celebrate the life and work of Dr. Martin Luther King Jr. with a Tribute and Musical Celebration and Day of Service activities on Monday, Jan. 20, 2014.
Day of Service Activities
The Montgomery County Volunteer Center is organizing and coordinating indoor family-friendly service projects at locations across the County. The projects are all approved for Student Service Learning hours.
Bethesda North Marriott Hotel and Conference Center, 5701 Marinelli Road, North Bethesda – 1 to 3 p.m. Activities include decorating cards for troops, assembling peanut butter and jelly sandwiches for local shelters, constructing fleece blankets for Montgomery Hospice and packing snow day boxes for Meals on Wheels. There will also be a Volunteer Fair that will showcase local non-profit's ongoing volunteer opportunities in Montgomery County.
More service projects will be held the same day from 10 a.m. to noon, at the Silver Spring Civic Building, 1 Veterans Place, organized by Delta Sigma Theta Sorority.
Also, from 3 to 5 p.m. the International Cultural Center, 19650 Club House Road, Suite 205, Montgomery Village, will run additional service projects.
Non-perishable food items will be collected at all three sites for Manna Food Center to distribute to those in need.
To pre-register for any of these events, visit the Montgomery County Volunteer Center website. For questions contact servicedays@montgomerycountymd.gov, or call 240.777.2600.
Musical Celebration
This 20th anniversary of Montgomery County's Dr. Martin Luther King Jr. Tribute and Musical Celebration carries the theme of "Honoring the Legacy: Celebrate, Serve, Remember." The annual event will take place on Monday, Jan. 20 at 3 p.m. at the Music Center at Strathmore, 5301 Tuckerman Lane, North Bethesda, and will feature a diverse array of performers. The 2014 recipients of the Children of the Dream, Humanitarian and Literary Arts Awards will be announced.
The annual celebration is free and open to the public. Tickets are required and may be reserved beginning Jan. 2 through Strathmore's website at www.strathmore.org (go to Events and Tickets), via phone at 301.581.5100 or in person at the Strathmore box office. For individuals unable to secure advanced tickets, a stand-by line will form outside the Music Center at 2 p.m. on the day of the performance. No lines may form before the designated time. At 2:45 p.m. all tickets are null and void and patrons in the stand-by line will be allowed entry subject to available seating. Sign language interpretation will also be available.
The event sponsors include: Fund for Montgomery, Southern Management Corporation, Choice Hotels International, Comcast, Safeway, Mid-Atlantic Petroleum Properties, Carl M. Freeman Foundation, Fitzgerald Auto Malls, The Sanford and Doris Slavin Foundation, The Gazette, Verizon, The Allstate Foundation, Washington Suburban Sanitary Commission, Montgomery County Equal Employment Opportunity, The City of Gaithersburg and The Montgomery County Muslim Foundation.
Help the Hungry Food Drive
Manna Food Center is partnering with select Montgomery County Giant Food stores to hold Service Day food drives in honor of MLK Day 2014. The food drives will be held on Saturday and Sunday, Jan. 18 and 19. For additional details and volunteer registration information, contact volunteer@mannafood.org.